Resolve Maritime Academy Opens Simulation Training Center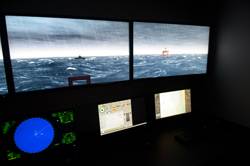 State-of-the-art, simulation-based safety and navigation training center raises the bar for cruise line and commercial shipping professionals.
Resolve Maritime Academy (Academy) opened its new Simulation Training Center on Monday, March 12 with a ribbon-cutting ceremony at the Fort Lauderdale, FL, USA facility adjacent to Port Everglades. The state-of-the-art, 7000-square-foot facility will provide leading edge simulation-based training programs to enhance safe navigation at sea for cruise line and commercial shipping personnel and other maritime professionals worldwide.
The Academy designed and developed the $6.5 million Simulation Training Center which features a Class A Full Mission Bridge Simulator with fully functional attached Bridge Wing with independent visual system, Electronic Chart Display & Information System (ECDIS) Classroom and Navigation Lab with a suite of advanced "mini" bridges. The Academy's unique curriculum utilizes state-of-the-art simulation technology and will initially include: Ship Handling; Bridge Resource Management (BRM); Operational Use of ECDIS; and RADAR/Automatic Radar Planning Aids (ARPA) programs. Customized programs also will be offered, including: Integrated Bridge Systems (Sperry VisionMaster and NACOS Platinum); Dynamic Positioning Systems; and Communication & Leadership Development for all ranks and employees. Future plans include an Engine Room Simulator for operational and Engine Resource Management (ERM) training.
Attending the ribbon cutting ceremony were executives of Resolve Maritime Academy and parent company RESOLVE Marine Group, Inc. as well as executives of Royal Caribbean Cruises, Ltd. (RCL)-- the first client of the new Simulation Training Center. The Academy developed simulators and training programs specifically for RCL, and in April 2012, the new programs will be offered to personnel of three of RCL's cruise brands – Azamara Club Cruises, Celebrity Cruises and Royal Caribbean International. Celebrity Cruises Vice President, Marine Operations, Greg Purdy said, "Through close collaboration with Resolve Maritime Academy we have been able to design one of the most advanced ship simulators in the world. In doing so, we have utilized the same state-of-the-art technologies that are found on
our ships allowing us to create a world class and industry leading marine training environment that is tailored to our fleets."
Academy Director Denise Johnston said, "Our new Simulation Training Center greatly expands the training opportunities for shipboard personnel worldwide. In addition to standard bridge and engine room simulation courses, we will also offer training programs incorporating the use of bridge and engine room simulators with our Gray Manatee shipboard fire fighting training vessel/facility as well as Fast Rescue Boat and Hazwoper courses. Our first priority at the Academy has always been to improve safety at sea, and these new programs will improve competencies and help build 'teamwork' attitudes and behaviors in a dynamic, 'real time' environment. This new generation of highly effective training will result in safer navigation in all sectors of the maritime industry, greater safety for vessel passengers and cargoes, and better protection of the marine environment."