Offshore Vessel Simulator Orders For Kongsberg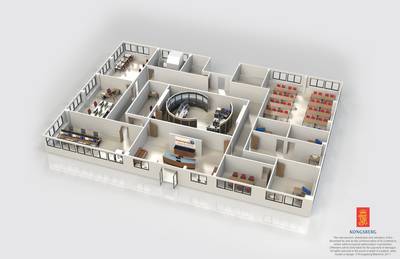 Mexico's Oceanografia S.A. de C.V. signs multi-million dollar contract with Kongsberg Maritime Simulation's Mystic, CT, USA office for supply of maritme simulators.
The contract is for the supply of a suite of offshore anchor handling, Dynamic Positioning, engine room and crane simulation systems, underpinning the main infrastructure for a new world-class offshore simulation training centre to be situated at Mexico's primary offshore supply hub for the Gulf of Mexico.

Kongsberg Maritime will supply Oceanografia with technology identical to systems found on board many of the company's fleet of vessels, especially for Dynamic Positioning (DP), anchor-handling and crane operations.
They will also supply Oceanografia with both basic and advanced dynamic positioning trainers. The Advanced K-Pos DP simulation trainer will be integrated to the Kongsberg Offshore Vessel Simulator (KOVS) including DP3 functionality in support of the Oceanografia offshore heavy lift vessel OHLV OSA Goliath. This K-Pos DP system meets all new standards that will be required effective 2014 for DNV, NI and IMCA.

The Oceanografia Offshore Training Center will be certified for use in Sea-time reduction training, where time spent in simulator training significantly reduces time required for live training at sea, enabling safer and more cost-effective DP training.

In addition to the main KOVS bridge, Kongsberg Maritime will also supply Oceanografia with an integrated heavy lift crane simulator that will be matched to the Crane found on OHLV Osa Goliath. Supplied by GlobalSim – a KONGSBERG company, the crane simulator will include a full mission crane cab.

Oceanografia has also invested in a comprehensive range of technical and instructor (train-the trainer) programs that will cover all aspects of the DP, KOVS, Crane, Bridge and Engine Room simulators. To remain current with evolving regulatory changes and the latest KONGSBERG developments, Oceanografia has contracted for a 5-year long term system support program (LTSSP) and has already commenced civil works to prepare its new training centre and the simulators for training by October 2014.