Sinopacific Orders Rolls-Royce Design, Equipment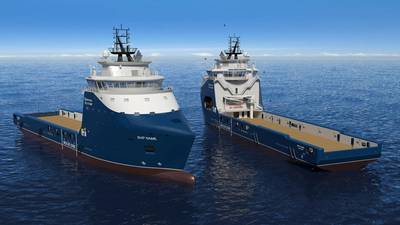 Rolls-Royce has announced that it has won an order to provide design and integrated equipment packages for two UT 771 WP platform supply vessels to be built by Sinopacific Shipbuilding Group Co. Ltd (SINOPACIFIC), a shipbuilder in China.

The contract incorporates MTU-engines as part of an integrated power and propulsion package within the successful UT-vessel series. The UT 771 WP design from Rolls-Royce enhances the ship's performance due to the signature wave piercing bow, designed to pierce through the waves in rough seas.

Ronny Pål Kvalsvik, Rolls-Royce, Vice President of Sales & Contract – Offshore systems, said, "This new design has been developed in cooperation between Rolls-Royce, the ship owner and the yard, and will feature technologies that increase fuel efficiency and safety while reducing operation costs and emissions."

Vivian Ye, SINOPACIFIC, Managing Director of Supply Chain Centre, said, "SINOPACIFC is committed to work closely with industry leaders to bring added value and better service to our customers. We are working to build up an open platform to share and encourage sustainable innovations for shipbuilding, and it has been a very good experience working with Rolls-Royce."

The systems from Rolls-Royce will comprise a propulsion system, a power electrical system, a bulk handling system, deck machinery, an automation and control system as well as a dynamic positioning system that uses satellite technology to automatically maintain the vessels' position without anchoring.

The two vessels are scheduled for delivery in late 2015. There are 22 Rolls-Royce UT-vessels under construction in China at present, which will eventually join more than 170 ship owners world-wide who have UT-vessels in their fleets.