S.Korean Shipbuilders Jump over Rising LNG Tanker Prices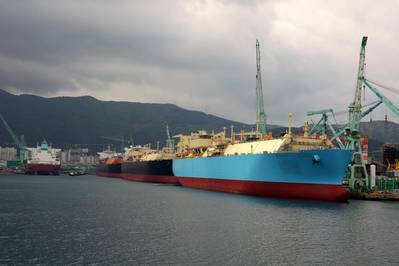 South Korea's shipbuilders jump after an industry report notes rising prices of liquefied natural gas tankers that is set to benefit the country's shipbuilders.
Shares of Hyundai Heavy Industries soar 9.2 pct, while those of Daewoo Shipbuilding & Marine Engineering jump 9.7 pct.
Samsung Heavy Industries adds 5.7 pct, after it secured a contract worth 412 billion won ($368 million) to build two LNG carriers for a ship owner in North America.
The stock price gains reflect the report issued by Clarkson, a UK shipbuilding industry analysis organisation, which raised the price of an LNG tanker to $181 million, says Park Moo-hyun, an economist at Hana Financial Investment.
The price for LNG carriers has risen due to a lack of supply and demand will grow for the next 10 years, the economist notes, saying Daewoo Shipbuilding & Marine Engineering has won the largest number of orders.
The broader KOSPI market is flat as of 0550 GMT.
($1 = 1,119.5200 won)