South Boats Launches Wind Farm SV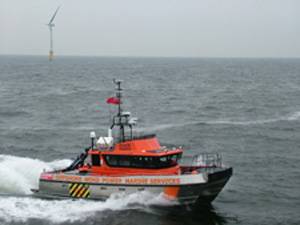 South Boats Special Projects Ltd. commissioned another Offshore Wind Farm Service Vessel for Offshore Wind Power Marine Services Ltd. of Conwy, North Wales for a long term contract with Dong Energy on Gunfleet Sands Offshore Wind Farm.
'Offshore Progress' is a first of class South Catamaran 47/15m Alloy Wind Farm Service Vessel and measures 15.7m length overall, 6.3m beam overall, has a draft of 0.9m and has a lightship displacement (including fluids) of 23.5 tons. This new design follows on from the success of previous 14m vessels currently in service on Lynn & Inner Dowsing Offshore Wind Farms in the UK and Q7 Offshore Wind Farm off the Dutch coast.
Offshore Wind Power Marine Services Ltd. are a specialist supplier of Wind Farm Service Vessels and 'Offshore Progress' joins existing vessels 'Offshore Provider' and 'Fastcat' in the OWPMS fleet. OWPMS also have two further vessels on order with South Boats for 2009 delivery. The company have extensive experience operating their vessels at North Hoyle, Burbo Bank, Barrow and Q7 Offshore Wind Farms and already have several long term contracts in place for their existing and ordered vessels.
The vessel follows standard South Boats design principles with symmetrical under water sections and asymmetrical wet deck knuckles and spray deflectors. The design includes a high buoyancy bow and triple internal spray knuckles to maintain a suspension of air/water to dampen pitching moments particularly in heavy weather. In addition the hulls maintain a parallel waterline beam through the length of the vessel allowing for good weight distribution around the vessel. The design offers class leading sea keeping, stability, fuel efficiency and maneuverability. The sea keeping in particular has been proven in service operating in excess of 2.5m significant wave height.
The vessel is fabricated of aluminum and is generally in accordance with Lloyds Special Service Craft Rules with all metal of marine grade 50830 and 6082T6 extrusions meeting the requirements of Lloyds Register and Shipping and DNV. Metal thickness vary to suit panel construction but typically 15mm at the keel, 8-12mm bottom flat, 6mm to the chine, 8mm chine bars, 5mm topsides and 4mm wheelhouse. To avoid edge to edge welding with differing sheet thicknesses, chine bars are used extensively to increase structural strength and avoid any thermal distortion and welding stress. Shell plating is spaced away from the frames at certain points to avoid stress points and all chine bars are slotted with radiused corners into the framing. The substantial framing and shell plating ensures maximum durability in an industry where vessel down time cannot be tolerated. Synergic, MIG & TIG welding practices are adopted and all welds are inspected and die penned prior to signing off. All hull transitions are fitted with a welded aluminim tube and flange bolted though a stainless flange insulated with Nebar gasket before stainless steel lever valves and Lloyds approved hoses.
The vessel features an 'Island' wheelhouse centrally mounted with a 24 sq. m. forward deck specifically to carry wind farm construction and maintenance equipment in dedicated stowages boxed and a 24m2 after deck. Deck equipment includes a raised Palfinger PK4500M fully folding knuckle boom crane and a Hercules 1 ton hydraulic capstan. A common hydraulic system allows the ships crane to lift out the vessels machinery when required to minimize down time on the vessel. The bow of the vessel is dominated by the MkV WTG (wind turbine generator) access platform and fender system. The South Boats Wind Farm Vessels continue to be the only service vessels specifically designed for docking to offshore wind farms and the transfer system, which is well proven has become an industry requirement for which South Boats holds a registered design.
The vessel is equipped with an IMO approved Furuno electronics package comprising Radar (with ARPA & AIS tracking), black box Chart Plotter, Video Sounder, DGPS, Navtex, Multiple Class D GMDSS Radio sets, Class A AIS, Wind Speed & Direction, Loud Hailer, Satellite Compass and Crew Finder system.
The vessel is powered by twin Scania DI12 60M 600hp diesel engines driving ZF360 1.237:1 reduction ratio gearboxes coupled to Clarkes drive shafts coupled to Ultra Dynamics 451 water jet units. This package offers the vessel a sprint speed of over 24 knots and a 21 knot fast cruising speed at 200 rpm (combined 196 liters/hr). At low cruising speeds (18 knots @ 1800 rpm) the vessel offers a frugal fuel consumption of 144 liters/hour. When loaded with 5 tons of calibrated ballast the vessel maintained a 20 knot sprint speed. Wheelhouse noise is less than 70dB at full speed, allowing easy conversation during passage.