Trelleborg Systems for DP World Southampton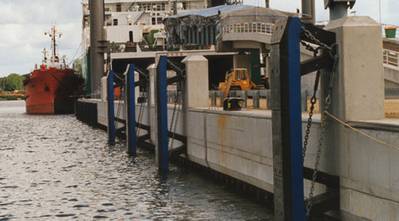 Trelleborg's marine systems operation has been awarded the contract to supply more than 70 UE1000 Unit Element fender systems to DP World Southampton. The new systems, taking the total supplied by Trelleborg to the Southampton container terminal to over 110, will allow the terminal to berth the latest ultra-large containerships.

When the project is complete, Southampton will offer 1.87 kilometers of deep water quay, with up to 16 meters depth alongside. 16 quayside gantry cranes with super post panamax capacity will also enable berthing for vessels over 400 meters in length.
Trelleborg's UE1000 Unit Element fenders were originally installed on SCT 1 berth in 1996. When the refurbishment program to SCT 2, 3 and 4 berths began in 2011, DP World Southampton was keen to maintain the existing berthing line with SCT 1 berth.
The first half of SCT 2 berth was refurbished in spring 2012, when Trelleborg supplied 17 fender systems. The latest order for the remaining 74 systems brings the total supplied by Trelleborg to 91 along the entire length of SCT 2, 3 and 4 berths. This takes the total number of systems supplied by Trelleborg to over 110, including the original supply to SCT 1 berth