Standed Bulk Carrier on S. Africa Coast Leaking Bunkers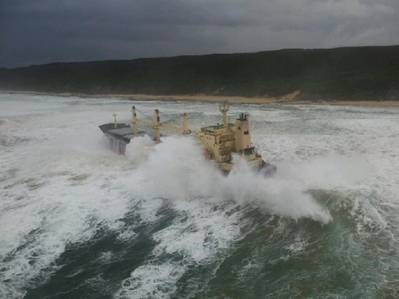 Oil is leaking from an abandoned bulk carrier, 'MV Kiani Satu', which ran aground off Buffels Bay on the the Knysna coast not far from a nature reserve.
In its latest report, South Aftrica's National Sea Rescue Institute (NSRI) said that all 19 crew members were safely ashore having been airlifted off the ship by a helicopter working in relays.

Graeme Harding, NSRI Knysna station commander, said: "The rescue helicopter hoisted NSRI helicopter rescue swimmers onto the ships deck where they instructed crew on the procedure to be hoisted into the helicopter by winch hoist using under arm harnesses."
"Only minor injuries were sustained to two crew members of the ship, a laceration to a hand and one with a minor ankle injury, but they do not require to go to hospital and were treated on-scene by paramedics. None of the remaining crew of the casualty vessel were injured and all 19 crew are accounted for and safe."

"The ship had washed side on to the shore during the early morning and came to rest hard aground after her anchor dragged and the tug boat was not able to hold her off against rough sea swells of 5 meters and strong gusting to 45 knot onshore winds."

The decision was taken by the ship's captain to abandon the ship and the safest method was to deploy the helicopter and hoist the crew off the ship while our NSRI rescue boats stood by to assist if necessary. SAMSA officials remain on-scene and the baulk carrier, fully laden with rice, will be assessed for salvage and efforts to prevent an environmental risks."