USCG to Station Ships in Arctic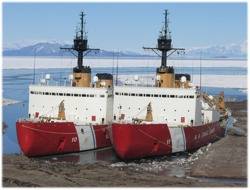 USCG to station ships at Alaska's North Slope this summer to eye Shell drilling platforms
For the first time in history the Coast Guard will be stationing responders at Alaska's North Slope this summer, when Shell Oil begins drilling in the Chukchi and Beaufort seas.
Coast Guard Commandant Adm. Robert J. Papp Jr. said that the Arctic doesn't represent a security threat for at least the next decade, but that the Coast Guard has "a much wider aperture," beyond strictly defense.
Papp told the Pentagon Channel and American Forces Press Service that the Arctic has economic, energy and environmental implications for national security.
Coast Guard missions there are increasing because Shell Oil Co. has permits to drill in Alaska's Chukchi and Beaufort seas beginning this summer, he said.
Shell will move 33 ships and 500 people to Alaska's North Slope, and will helicopter some 250 people a week to drilling platforms, the admiral said. That activity has the potential to increase Coast Guard workloads in pollution and environmental response, as well as in search and rescue, he noted.