Wärtsilä Steerable Thruster Gets Class Approval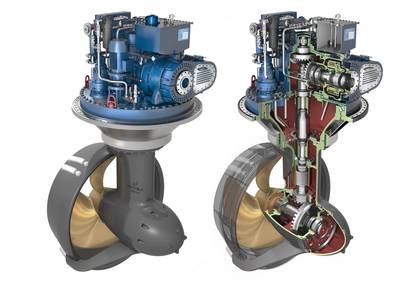 DNV-GL approved the design of the Wärtsilä WST-14 thruster, significant as approval was granted based on a thruster design that has yet to be introduced into full series production. The approval by DNV-GL follows the release of Wärtsilä's next generation of thrusters at the end of 2013. The new WST-14 is part of the Wärtsilä Steerable Thruster (WST) compact series, which is aimed at tugs, anchor handling vessels, and coastal and inland waterway cargo vessels. The series is also designed so as to comply with the latest environmental regulations, such as the US EPA VGP 2013 requirements.
"The fact that the WST-14 thruster design has been already approved will serve as an assurance to the customer that he is buying a product that already meets classification requirements. Furthermore, the approval emphasizes the design quality of our entire new thruster portfolio, and is a clear signal to the market of the robustness built into each Wärtsilä thruster," said Wim Knoester, Director, Sales & Project Management, Propulsion Business Line, Wärtsilä Ship Power.
The approval is an important step towards obtaining type approval for the WST-14 thruster. Wärtsilä has earlier acquired type approval for several thruster products. However, for the newest Wärtsilä Steerable Thruster (WST) portfolio, Wärtsilä has begun the process towards type approval from the earliest possible moment.
This approval also confirms that the design calculations meet the classification society's requirements regarding standard operations, as well as for operations in ice conditions (ice class certification).
A prototype of the Wärtsilä WST-14 thruster is being built at the company's dedicated manufacturing facilities in Wuxi, China, and will be shipped to Tuusula, Finland for testing and validation at the Wärtsilä Propulsion Test Center.