Stena Edda Enters Service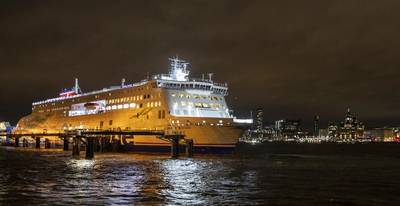 The next generation of ferry travel went into service Monday as Stena Line reaffirmed its commitment to freight and travel operations on the Irish Sea.
Stena Edda, the biggest ferry ever to sail on the Belfast to Liverpool route, embarked on its maiden voyage on Monday evening as it left Merseyside.
With 40% more deck capacity, 40% more cabins and 30% more fuel efficiency than current vessels on the route, Edda accommodates up to 1,000 passengers, 120 cars in its dedicated garage deck and 3,100 lane meters of freight.
Despite the 215 meters length of the ferry, the new port infrastructure in Belfast and Birkenhead will deliver easier and faster loading and unloading for all passengers.
Stena Edda is part of an investment of over £200 million by Stena Line in three new vessels and port upgrades, involving the company's partners at Peel Ports and Belfast Harbour. Edda is the first of two new ferries that will offer a choice of daily sailings on the popular Belfast to Liverpool route.
Paul Grant, Stena Line Trade Director Irish Sea North said, "The Irish Sea is very important to our company and we are committed to enhancing and developing our services on these routes to continue offering the very best freight and travel experience for customers.
"The Liverpool to Belfast route has been growing consistently since Stena Line acquired it almost 10 years ago. In that time, we've continued to increase capacity, improve the product and last year was a record-breaking year for freight and travel."