Østensjø Rederi Orders Wind Farm Vessel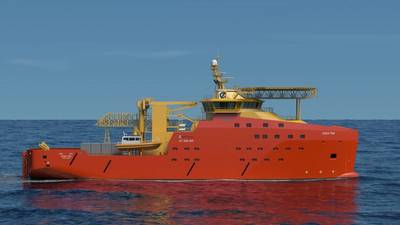 Østensjø Rederi AS has placed an order for the construction of a new offshore wind farm support vessel for maintenance operations at the Race Bank Offshore Wind Farm in the U.K., following the award of a service operation vessel (SOV) contract awarded from charterer Dong Energy.
The vessel will be built at Astilleros Gondan's Figueras shipyard in Spain. Gondan is currently building three vessels for the same Norwegian shipowner, and with this new project will tally 12 vessels built with Østensjø Rederi.
The new ship, the first forRolls-Royce's new UT 540 WP design, will serve as the "mother ship" for wind turbine technicians as they perform wind farm maintenance work off the coast of Lincolnshire, U.K. The design was developed in cooperation with Østensjø Rederi specifically to support operations in shallow waters at offshore wind farms, Rolls-Royce said.
At 81 meters long with a beam of 17 meters, the DP2 vessel will have 60 single cabins to accommodate up to 40 wind turbine technicians in addition to a marine crew of 20. The new build will be equipped with a motion compensated gangway system with an adjustable pedestal for the transfer of maintenance personnel from the ship to the workspace.
Østensjø Rederi' CEO, Johan Rokstad, said, "We have worked closely with Rolls-Royce to develop a design we believe will be well suited to servicing the specific operational demands of supporting offshore wind farms."
According to Rolls-Royce the ship is designed with a focus on seakeeping capabilities, station keeping performance, improved comfort and safety on board, as well as reduced fuel consumption.
Rolls-Royce will also supply the diesel electric main machinery, consisting of frequency controlled electric driven azimuth thrusters, super silent mounted transverse thrusters, the DP2 dynamic positioning system, power electrical system,
deck machinery
and the Acon automation and control system.
The vessel will work out of
Grimsby operation
base and is scheduled for delivery in the second half of 2017.
Østensjø Rederi's contract with Dong, which signifies the ship owner's entry into a new market, has a firm period of five years, with an option for five more years. Commencement date is set for September 1, 2017.
"This contract enables us to expand our business into the
renewable energy sector
. It has been the strategy of Østensjø Rederi to diversify our operations," Rokstad said, adding he believes the sector holds "further demands for similar vessels in the near future."
Jens Jakobsson, senior vice president for Dong's wind power operations, said, "The service operating vessel will be an important step to ensure safe and efficient operation of wind farms far from shore, starting with Race Bank windfarm, and we are convinced that DONG Energy will benefit from Østensjø Rederi's long experience in conducting safe operations in an offshore environment."