StingRay: Adapting to the Market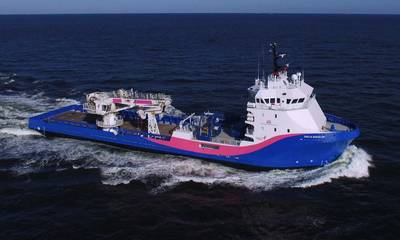 There is no question that these are challenging times for offshore oil in the Gulf of Mexico. However, while some vessel operators are tying up boats, Bordelon Marine is continuing with its aggressive build program. Designed for flexibility, the firm's Stingray 260 Class DP 2 platform supply vessels are proving their design concept.
Its most recently vessels are the M/V Shelia Bordelon, and M/V Brandon Bordelon, number two and three in the series, due for launch later this year. Working with the same hull and accommodation block, Bordelon have been able to modify the vessels to meet the requirements of charterers wanting an ultra-light-intervention vessel. These vessels will carry and deploy remotely operated vehicles (ROV). This required the addition of a 50-ton AHC (Active Heave Compensating) crane, with 3,000 meters of wire, mounted on a six-meter pedestal with a maximum lifting height of 90 feet.
"Typically when a charterer adds ROV systems to a vessel, they are required to install extra generators on the back deck, exposing this equipment and taking up valuable cargo space," explained Wes Bordelon, Presidend/CEO of Bordelon Marine, "We've added all of these necessary power systems below deck, leaving the back deck open and clear, while also protecting the equipment from the environment. It's a very clean and safe plug-and-play set up."
To do this took some serious design work. The standard Stingray 260 PSV design has a pair of Cummins QSK60 Tier 3 main engines, two Cummins QSK38-DM1-powered 975 kW main generators, and a single Cummins QSK19-powered 535 kW genset for reduced consumption during port side service. Two additional Cummins QSK38s and two QSK19s were added below deck to provide fully redundant power to the ships's 50-ton crane, and up to two complete work class ROV systems.
Marine disconnects were positioned on deck for safe and efficient installation of ROVs. As integral components of the vessel, the additional gensets are tied into the vessel software so that they can be controlled and monitored from the bridge.
The flexible nature of the original Stingray design lends itself to these adaptations, and others, to allow the vessel to meet changing market demands. Total berths have been increased from 54 to 60 along with other modifications to the accommodations area for the ROV support crews.