Baltic Index Slides for 4th Straight Day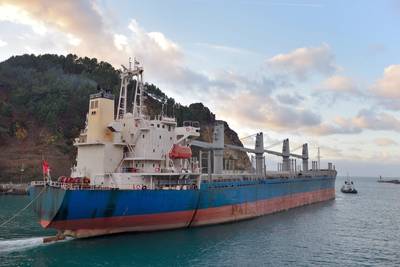 The Baltic Exchange's main sea freight index, tracking rates for ships carrying dry bulk commodities, fell for the fourth straight session on Thursday, pressured by lower panamax vessel rates.

The overall index, which factors in rates for capesize, panamax, supramax and handysize shipping vessels, was down 3 points, or 0.3 percent, at 957 points.

The panamax index dropped 31 points, or 3.4 percent, to 894 points.

Average daily earnings for panamaxes, which usually carry coal or grain cargoes of about 60,000 to 70,000 tonnes, fell $253 to $7,192.

The capesize index rose 48 points, or 3 percent, to 1,638 points.

Average daily earnings for capesizes, which typically transport 150,000-tonne cargoes such as iron ore and coal, were up $281 at $12,018.
"Capesize rates have seen a slight reversal in the physical market today, fueled by increasing activity in the Pacific market,"
Clarksons Platou Securities analysts
said in a note.
Capesize rates rose after three sessions of losses, supported by hopes
that steel demand
in top consumer China would remain healthy.

Iron ore shipments account for around a third of seaborne volumes on the larger capesizes.

Among smaller vessels, the supramax index was down 7 points at 764 points, while the handysize index fell 1 point to 504 points.

(Reporting By Nallur Sethuraman in Bengaluru)