Stranded Kulluk Rig Update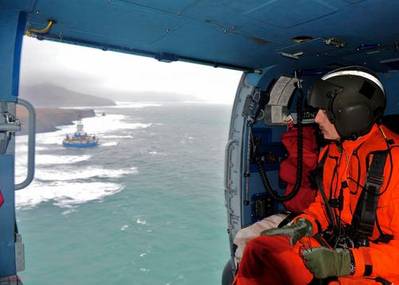 The mobile drilling unit 'Kulluk', Shell Oil's 266-foot-long floating drill rig, remains aground on the southeast shore of Sitkalidak Island, Alaska,
Rear Adm. Thomas Ostebo, commander, Coast Guard 17th District and commander of Coast Guard forces in Alaska, said:
""My primary concern is ensuring the unified command has the personnel, assets and equipment they need to safely salvage the Kulluk," said Ostebo. "I have over flown the Kulluk twice and am fully aware of the remote location, weather challenges and the extensive plans that will have to be developed to ensure this incident is managed in safe and effective manner."

Ostebo is also working with the unified command to ensure that the public, stakeholders and elected officials are kept up to date on the response and its objectives.

"This is a very large and complex response and it is important that the American public and our elected officials understand the dangerous and difficult challenges being faced by the response crews," said Ostebo. "We are continuing our collaborated response with other shareholders in the unified command until the grounded Kulluk no longer poses a threat to the pristine Alaska maritime environment. Throughout the response, our number one priority has been and will continue to be ensuring the safety of the crews involved in response operations."

NOAA adds to the USCG statement that the next step for the response is assessing the condition of the rig and planning to remove the oil on board. Of note is the fact that the shores of Kodiak Island, where the rig grounded, fall within critical habitat for the endangered Steller sea lion .

Picture: Rear Adm. Thomas Ostebo, observes the conical drilling unit Kulluk from an MH-60 Jayhawk helicopter during a second overflight Tuesday, Jan. 1, 2013.