Strategic Marine Teams Up with Caterpillar to Slash Emissions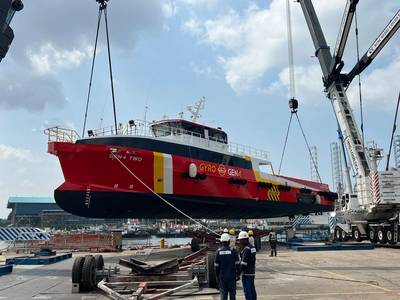 Caterpillar Marine announced it has entered into a memorandum of understanding with Singapore-headquartered shipbuilder Strategic Marine to support emissions-reduction goals for future vessel designs.
"Our collaboration with Strategic Marine brings together immense expertise that allows Caterpillar Marine to innovate and support the ongoing energy transition. This is an exciting challenge to tackle, but most importantly it fosters our industry's goal to reach lower-carbon operations," said Brad Johnson, vice president and general manager, Caterpillar Marine. "With our shared vision and Caterpillar's innovative technologies, we look forward to working with Strategic Marine to advance the future for the maritime industry."
Strategic Marine, which builds aluminum vessels for maritime, offshore energy industry, tourism and naval defense applications worldwide, has said it is focused on lower-emission propulsion across its product range, from crew transfer vessels (CTVs) for the offshore wind industry to fast crew boats (FCBs) for the offshore oil and gas industry and other classes of vessels.
"Providing ships that help our customers lower the emissions of their operations is paramount to us," said Eng Yew Chan, CEO of Strategic Marine. "We are excited to work with Caterpillar Marine to help lower emissions in the industry.