Strong Capesize Demand Lifts Baltic Index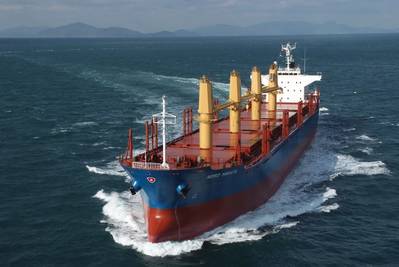 The Baltic Exchange's main sea freight index, tracking rates for ships carrying dry bulk commodities, rose for the fourth consecutive session on Tuesday, propelled by higher demand for capesize vessels.
The overall index, which factors in rates for capesize, panamax and supramax shipping vessels, was up 54 points, or 3.8 percent, at 1,476 points.
The capesize index gained 174 points, or 7.6 percent, at 2,478 points, last touched on May 14. Average daily earnings for capesizes, which typically transport 170,000-180,000 tonne cargoes such as iron ore and coal, were up $1,424 to $20,515. High activity in
Brazil have
been pushing up capesize earnings, analysts at
ship broker
Clarksons Platou Securities wrote
in a note.
The panamax index shed two points, or 0.2 percent, at 1,336 points. Average daily earnings for panamaxes, which usually carry coal or grain cargoes of about 60,000 to 70,000 tonnes, decreased by $20 to $10,732.
The supramax index fell nine points to 1,025 points.
Reporting by Arpan Varghese