BAE Gains UK Submarine Command System Contract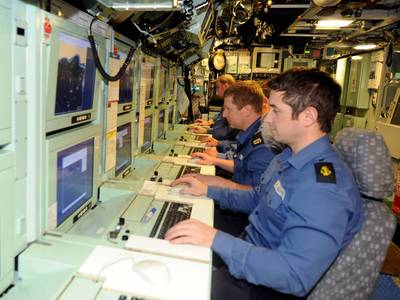 A £46m contract to support and maintain a new combat system across the Royal Navy's submarine fleet awarded to BAE Systems.

The Design Services Arrangement contract will ensure that the system, which is used to navigate vessels as well as gather intelligence and defend against attacks, is maintained and developed over the next decade.

The Royal Navy operates three classes of submarine, totalling 10 vessels, which are used to safeguard the UK's interests around the world.

Currently, different combat systems are used across the fleet. This new contract will help drive adoption of a common combat system across all current and future Royal Navy submarines, with considerable benefits to training, maintenance and updating costs.

Rear Admiral Simon Lister, MOD Director of Submarines, said:
"Command Systems on board our submarines contain many vital technologies and it is very important that our submarines retain their technological edge, botåh now and in the future. This contract will help secure that position for the MOD and UK industry."

The contract has been awarded to BAE Systems Maritime - Submarines and will safeguard around a total of 30 jobs at the company's sites in Ash Vale in Surrey and Weymouth in Dorset.