Chuck's Boats Build Submarine Handling Tug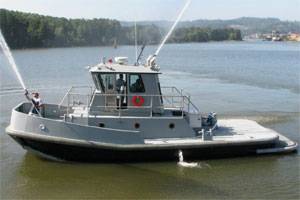 Over the last six years, Chuck's Boat and Drive of Longview, Washington has delivered almost 40 small tugs to the U.S. Navy. They range in size from 19 to 40 ft, are powered by single and twin Cummins engines, and are designed to fulfill missions that include many in-port duties, including moving heavy security booms and docking naval vessels. These hard-working craft have are based on the durable steel hulls that the company has delivered to commercial operators in the logging business for over 40 years. They utilize features like engines mounted in deep fin keels for maneuverability and bollard pull.
Chuck's latest navy project is a 45 ft harbor tug with a unique underwater shape that enables it to safely handle submarines yet delivers good tracking. The shallow hull is 16 ft wide and is characterized by three fin keels--two at the stern and one at the bow. The forward keel supports the deep stem that extends 6 ft underwater and is surrounded by heavy rubber fendering. The aft pair of keels house 455 hp Cummins QSM 11 engines that deliver low Tier 2 emissions.
Cummins' Quantum Series QSM11 is a high-output 10.8-liter inline 6-cylinder 24-valve engine that is rated at 425 HP at 1800 rpm for medium continuous operation. The aft keels flare out so that they are wide enough to accommodate the lower end of the engines, giving the driveshafts a horizontal run from the ZF 325 reduction gears to the 3-bladed 43" X 34" Kaplan skewed propellers.
This innovation eliminates the power loss of a standard down-angled shaft and, combined with foil section propeller nozzles, results in a bollard pull of 25,000 lbs at 1800 rpm. Steering is by a pair of double-bladed rudders controlled by a custom electric/hydraulic steering system. The twin fuel tanks have a fuel capacity of 1000 gallons and the economy-cruising speed is 8 knots.
The hull is constructed from ¼ inch steel with ¾ inch plate specified in high-load areas, and is fitted with lifting eyes. (Together, the three keels provide stable tripod support for the 80,000 lbs hull when lifted out or drydocked for maintenance.) The deck fittings include a high bulwark around the foredeck, large bollards port and starboard and sampson posts on the fore and aft decks. The transom, chines and upper rub rail are covered by 8 inch non-marring D-rubber fendering that protects the submarine's skin from impacts.
The aluminum pilot house is provided with a complete suite of Raymarine electronic navigation equipment, including VHF radio, radar, depthsounder, GPS and a fire and water alarm system that includes a roof-mounted red beacon for visible warning. An Elkhart Brass Sidewinder fire monitor is located behind the pilot house and a Bloom Series 1000 hydraulic capstan is mounted on the aft sampson post.
The first CBAD 45 has been delivered by land, with the pilothouse removed, to the Portsmouth, N.H.. Naval Base. With the commercial marine industry's focus on fuel efficiency and cost reduction, the builders expect that there will be increased interest in replacing many bigger older tugs with smaller, more powerful designs that require less crew and maintenance.