Submarine USS Helena Returns to Homeport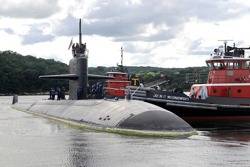 USS Helena returns to Naval Station Norfolk after service in Central and South American sea areas
The fast-attack submarine USS Helena is returning to Naval Station Norfolk from a regularly scheduled deployment.
The Los-Angeles class submarine will arrive at its homeport shortly.
USS Helena is returning from the U.S. Southern Command area of responsibility, which includes Central and South America. The Navy says the submarine traveled more than 8,600 nautical miles.
The 360-foot ship is commanded by Cmdr. Paul L. Dinius, with a crew of 16 officers and 134 enlisted sailors.