US Nuclear Submarine Visits Japanese Port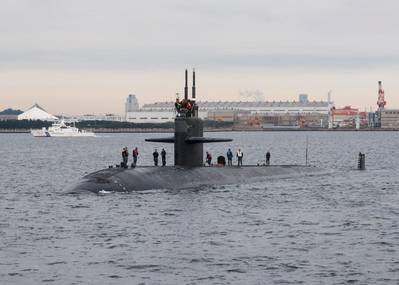 Los Angeles-class fast-attack submarine USS City of Corpus Christi (SSN 705) has docked at Yokosuka port in Japan as part of its Asia-Pacific region itinerary, the US Navy announced in a news release.
City of Corpus Christi has conducted a multitude of missions and maintains proficiency in the latest capabilities of the submarine fleet.
"Every Westpac (Western Pacific) submariner expects to come here at some point during their time in the theater, and it is always a much anticipated visit," said Cmdr. Travis Petzoldt, commanding officer.
Commissioned in 1983, the City of Corpus Christi is more than 300 feet long and weighs more than 6,000 tons, the release noted.
"City of Corpus Christi is one of the stealthiest submarines in the world. This submarine is capable of supporting a multitude of missions, including anti-submarine warfare, anti-surface ship warfare, strike, surveillance and reconnaissance," Navy News Service said.
Los Angeles-class submarines carry about 25 torpedo tube-launched weapons, as well as Mark 67 and Mark 60 CAPTOR mines, and can fire Tomahawk cruise missiles capable of carrying nuclear warheads.