NNS Launch US Submarine 'Minnesota'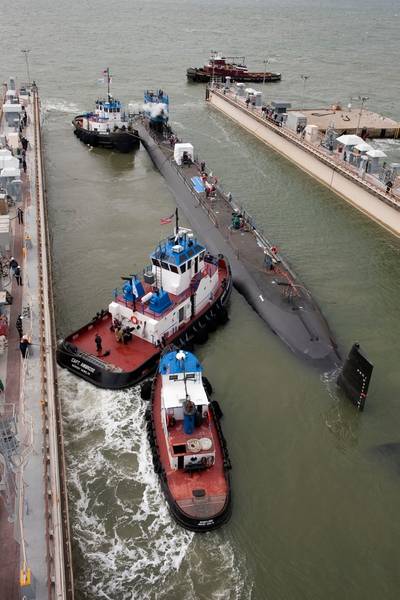 Huntington Ingalls Industries' Newport News Shipbuilding Division launches Virginia-class submarine Minnesota (SSN 783).

To achieve her latest milestone, the 7,800-ton Minnesota was moved out of a construction facility into a floating dry dock using a transfer car system. The floating dry dock was submerged, and Minnesota was launched into the James River. Once in the water, tugboats moved the submarine to NNS' submarine pier, where final outfitting and testing will take place.

As many as 1,000 shipbuilders have worked on Minnesota, the 10th Virginia-class submarine. At about 92 percent complete, Minnesota is on track to complete in 63 months. Construction began in February 2008, and Minnesota was christened Oct. 27.

"It is truly awe-inspiring having been able to watch the submarine go from pieces and now launching for the final stretch of construction prior to sea trials," said Cmdr. John Fancher, Minnesota's commanding officer. "When I think of all the energy and craftsmanship of the shipbuilders that has gotten us to this point, I am humbled. The crew is excited to get their boat into the water, and I couldn't be more proud of them and all of their hard work and training."