Nuclear Submarine Upgrade Avoids UK Job Losses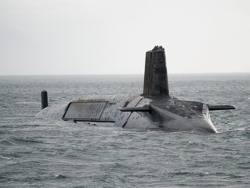 Upgrade contract of British nuclear deterrent submarine HMS Vengeance to save about 2000 jobs
The £350m contract to refit and refuel HMS Vengeance was confirmed by Defence Secretary Philip Hammond during a visit to Devonport Dockyard in Plymouth.
The contract will sustain more than 1,000 jobs at Babcock in Devonport, and a further 300 at other companies in Plymouth. Such is the scale of the refit that another 700 jobs in the industrial supply chain across the UK will also be sustained.
HMS Vengeance is one of the UK's four Vanguard Class submarines, designed to carry the UK's Trident nuclear missiles. Together they form the backbone of the UK's continuous at-sea nuclear deterrent.
The upgrade is expected to take three-and-a-half years - clocking up a total of 2.5 million man-hours. It will involve a complete overhaul of equipment on the submarine as well as the installation of improved missile launch equipment and upgraded computer systems.
A new reactor core - the energy source that powers the 15,000-tonne vessel - will also be fitted, meaning that HMS Vengeance will be able to function until the end of her remaining operational life without having to refuel again.