New British Warship Missile Firing Successful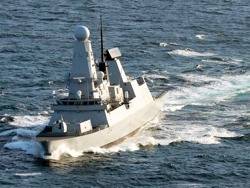 HMS Diamond fires 'Sea Viper' missiile for first time
The third of the Royal Navy's cutting-edge Type 45 destroyers blasted a Sea Viper missile out of her silo at three times the speed of sound, obliterating the jet drone target in the sky above.
The successful firing of Sea Viper means that HMS Diamond is now ready to take her place as a fully operational warship, capable of deploying anywhere across the world.
'Sea Viper' is a state-of-the-art air defence weapons system which is a combination of Aster missiles, Sampson radar (the spinning ball on top of the mast), a combat and command system, and the silo on the forecastle containing the Sylver vertical missile launcher.