SafePort Project Completes Successful Sea Trials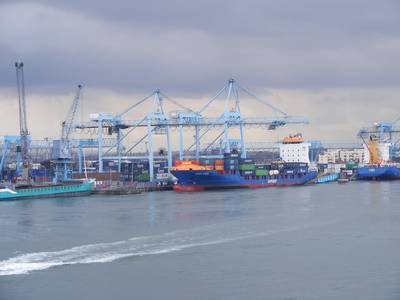 BMT Group, the international maritime design, engineering and risk management consultancy, is pleased to announce that the SafePort research project has completed initial sea trials of a prototype vessel management system at Dublin port.
SafePort offers the first advanced vessel traffic management system designed for constrained ports, or waterways with high traffic densities, with integrated portable pilot unit. SafePort delivers accurate, secure and reliable navigation and positioning information which in turn enables for safer and more efficient navigation and berthing. The project which has received community funding and is being supervised by the European Global Navigation Satellite Signal (GNSS) Agency, was designed to address the need to maintain safety standards as the size of crews and its relative experience diminishes whilst increasing capacity in constrained waterways. Leading a consortium of nine organisations from across Europe, BMT was responsible for the development of the path planning capability which will help to reduce time and fuel wastage and taking the first tentative steps towards the autonomous ship.
Ben Hodgson, Senior Research Scientist at BMT Group explains: "SafePort reduces risk by helping increase the cooperation between Pilots, Vessels and the Vessel Traffic Management Information system (VTS/VTMIS). Vessels participating in the system share their planned paths and schedules with the A-VTMIS system or request a path to be planned for them. These are continually validated to ensure that they comply with regulations, do not conflict with other vessels, are low risk and are achievable with current manoeuvring constraints and environmental conditions. "An enhanced portable pilot unit assists pilots in following these agreed paths and time slots and provides an indication of the risks associated with manoeuvres and other vessels such as highlighting that an uncontrolled vessel will cross a section of the path ahead."
AIS-position reports can be misleading for various reasons such as systematic errors, installation issues, time delays, atmospheric conditions affecting the GNSS signal. Vessels entering and leaving the port are therefore monitored using a portable pilot unit which uses the European Geostationary Navigation Overlay Service (EGNOS) both to provide highly accurate position reports and also an indication of the positional uncertainty. The project also uses knowledge of the satellite signals as an authentication system to provide assurance against attacks by hackers who may attempt to confuse shipping by faking GPS signals. Ben Hodgson commented: "SafePort is interesting for a whole host of reasons not least because it shows how different drivers can encourage innovation. For example, our work within SafePort takes advantage of the technical developments presented by the Galileo programme as well as the inherent portability of the iPad whilst building on product already in existence from Marimatech and Kongsberg . However, the move from VHF towards an air traffic control type system is due to a heightened sense of the need for security – a sign of the times perhaps."
The SafePort project was co-ordinated by BMT Group Ltd in the UK and comprised: Marimatech AS in Denmark; Dublin Port Company in Ireland; NEXT Ingegneria dei Sistemi SpA; Institutio Superiore Mario Boella Sulle Technologie; Dell'informazione e delle Telecomunicazioni all of Italy; Kongsberg Maritime AS of Norway; Autoridad Portuaria de Gijon in Spain and University of Strathclyde in Scotland.