GEOSHIPS Extends Fleet Following Successful Year for First Vessel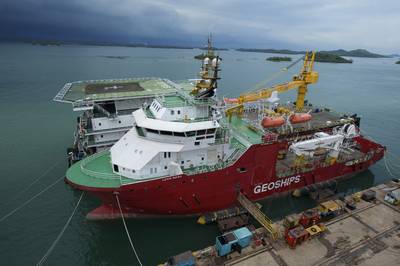 SeaHold GEOSHIPS Ltd., a marine and subsea services shipping company, has taken delivery of its second multi-purpose support vessel (MPSV) on a contract valued at over £30million, following a successful year for its current vessel, the Stril Explorer.

Formed in 2003, Aberdeen-based GEOSHIPS will manage and crew the MPSV Loch Roag vessel, which it has taken on a five-year bareboat charter basis from Otto Marine Ltd. The contract is valued at £22million ($36.5 million) over five years with an option to extend the contract for two more years, bringing the potential value of the contract to nearly£33 million ($ 52.4 million).

As part of the bare boat charter for Loch Roag, GEOSHIPS has the option to buy the vessel at various stages during the agreement. It is a Norwegian-design, Marin Teknikk (MT) 6009L MKII Vessel, built by Otto Marine Ltd. in the Indonesian Shipyard Batamec and is suitable for work in a variety of areas, including the North Sea, Mediterranean, West Africa and Asia Pacific.

The vessel can accommodate 66 people in one- and two-man berths. It measures 80 meters, has a deck space of approximately 510 square meters and the dead weight is 3000 tons.

GEOSHIPS' in-house vessel crewing and management department, (previously known as Brooklyn Shipping Limited), will operate and manage the vessel, giving a higher level of control over each project. This department will also crew all future vessels GEOSHIPS adds to its fleet.

The vessel should arrive into the North Sea toward the end of this month (April), which is the region where several jobs have been tendered for it. It is likely the vessel will be used extensively for inspection, repair and maintenance activities using a work class ROV and eyeball ROV, depending on the work scope.

"This has been a busy year for the company so far, and we are delighted at the extent and scope of work our first vessel has accomplished," said Kenny Macleod, chairman, SeaHold GEOSHIPS.

In the first quarter of 2013, GEOSHIPS will expand its fleet further with a new multi-purpose offshore vessel of a Vik&Sandvik VS470 design. It is certified to carry 60 people and has an overall length of 76 m.