SAL Newbuild Successful Crane Test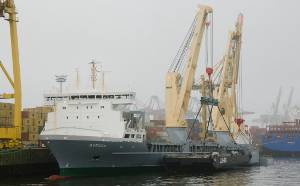 The first of two newbuilds of type 183 commissioned by heavy lift carrier SAL Schiffahrtskontor Altes Land has successfully performed its crane tests in the port of Hamburg. During the test each of the two cranes lifted weights of 1000 tons simultaneously in a very short time period. After a building phase of about six months the first of two type 183 new buildings is getting ready for delivery.

In July 2009 the German based heavy lift carrier SAL Schiffahrtskontor Altes Land has commissioned the design and construction of a highly innovative vessel type to the Sietas shipyard in Hamburg-Neuenfelde. In close cooperation between carrier and shipyard the type 183 was developed – a prototype that so far remains unique in the global market with a combined crane capacity of 2000 tons SWL and a Dynamic Positioning System (DP). The high capacity cranes have been manufactured by Neuenfelder Maschinenfabrik (NMF), a company belonging to the Sietas group.

The crane tests of the two massive cranes were performed successfully on November 20 at the Norderwerft in Hamburg which also belongs to the Sietas group. In only 30 minutes the two cranes managed to simultaneously lift 1000 tons pontoons each. With 2000 tons weight hanging from the crane the vessel itself was in ballast with only the tweendeck pontoons filled with water to provide stability. Only a few days earlier the cranes were tested successfully lifting weights of 1100 tons individually.

Besides their unrivalled lifting capacity the NMF cranes are characterized by their significant outreach, which allows each crane to lift up to 500 tons even at a distance of 38 m. Further features of the new vessel type are its high speed of 20 knots, adjustable tween decks and a Kongsberg Dynamic Positioning System.

The naming ceremony is planned for December 9 at the Überseebrücke in Hamburg.

The delivery of the second heavy lift new building is scheduled for March 2011. The investment for both of these state-of-the-art vessels is at $157.5m.