Sunstone Orders More Cruise Ships in China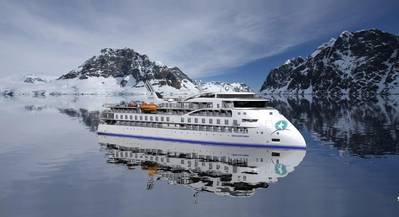 SunStone Ships continues to break new ground in the specialty/expedtion cruise sector with the announcement of the signing of an agreement to build another two Infiity class vessels in China. According to SunStone President and CEO, Niels-Erik Lund, "Our charterers are anxious to enjoy the advantages of our cutting-edge technology, like the Xbow design, along with the significant operating efficiencies offered by the INFINITY Class. So, we're moving as quickly as possible to get them into the market."
The Infinity class ships are 104 x 18 m with a 5.1-m draft and a passenger capacity between 130-200 witha crew capacity between 85 and 115.
The Vessels are Ice Class 1A, Polar Code 6 and are being built with Safe Return to Port, Dynamic Positioning and Zero Speed Stabilizers. Current INFINITY Class new-builds under way include the GREG MORTIMER, scheduled to deliver August, 2019, the OCEAN VICTORY in September 2020, the OCEAN EXPLORER in March 2021, and the OCEAN ODYSSEY in May 2022. The OCEAN EXPLORER and OCEAN ODYSSEY both already have long-term charter agreements.
This contract is part of the ten-vessel Framework Agreement with China Merchants Heavy Industries. SunStone is in negotiations for additional vessels and it is expected that the remaining five options will be signed within 2019, so that ten INFINITY Class vessels will be built at CMHI, China.