SunStone Orders Third Expedition Cruise Vessel at CMHI Yard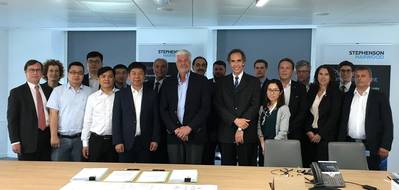 Miami-based SunStone Ships has declared option number two at CMHI shipyard after signing a long-term charter contract with Victory Cruise Line for the vessel, with a total of three newbuilds now under construction at the Chinese yard.

A press release from the manager of passenger ships across the globe said that it originally placed one firm contract and nine options on Ulstein deliveries of expedition cruise vessel designs and equipment packages back in 2017.

All ten vessels are part of SunStone Ships' series of vessels in the 'INFINITY-class'. With the declaration of the next option, the CMHI (China Merchants Heavy Industry) yard in China will be constructing three expedition cruise vessels based on the Ulstein design. Ulstein's contract is with the yard.

SunStone Ships has signed a long term charter contract with Victory Cruise Lines on the third vessel, which will carry the name 'Ocean Victory'. The new-build will be delivered in March, 2021.

SunStone's President & CEO, Niels-Erik Lund commented, "We are pleased with the rapid adoption of the INFINITY-class vessels. It seems our European design & technology, combined with lower overall operating costs ticks all the boxes for the small and expedition-ship market."

"We are pleased with the work laid down by SunStone Ships in finding charterers for these vessels, and firmly believe that they will realise all ten vessels in the series," said Tore Ulstein, deputy CEO in Ulstein Group and COO Design & Solutions.

"We have a very good cooperation with the involved parties, and look forward to a continuous and fruitful collaboration on the next vessel," Tore added.

Ulstein Design & Solutions has designed the vessel. Ulstein is also responsible for the delivery of the equipment package, with all main equipment being of proven technology and from well-known manufacturers in Europe, as well as supervising the technical construction of the vessel. Tillberg Design USA is responsible for the interior design, and Makinen for the construction of all interior spaces.

It's not just the X-BOW that makes these ships stand out. The layout is designed for indoor excellence and outdoor experiences. Observation decks and balconies offer a range of views to the spectacular surroundings. A high class restaurant and bar serve all-day delicacies and refreshments.

The vessel facilities include three restaurants and one open deck dining facility, observation lounge, lecturer lounge, piano bar, gym and spa facilities, library, shops, changing facilities for Zodiac excursions, 20 Zodiacs, swimming pool, Jacuzzis, & pool bar.

The First INFINITY-class ship, named the 'Greg Mortimer', is scheduled for delivery August 2019 and goes on charter to Aurora Cruises, Australia.

The INFINITY-class expedition cruise ships measure 104.3 metres in length and 18.4 metres in the beam. The 'Ocean Victory' will have accommodation for 100 crew members and 200 passengers. The hull will be built according to Polar class 6, Polar code Cat B, with dynamic positioning system and zero-speed stabilizers.