Superlative Cruising Encounter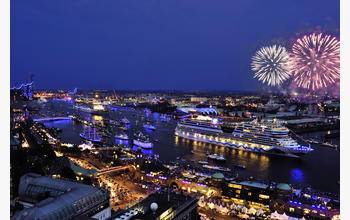 A fleet of seven cruise ships attract 600,000 visitors to the fourth Hamburg Cruise Days.

It was 'time to say goodbye' to the Deutschland and AIDAstella last Sunday, not only for the cruise passengers, but also for the many visitors to the fourth Hamburg Cruise Days.

For three days the city was totally consumed by the laid back maritime cruising atmosphere that prevailed along the four-kilometre length of the event area. Blessed with midsummer temperatures, 12 cruise theme islands between HafenCity and Altona provided a range of sporting, artistic and cultural offerings as well as a highly diverse entertainment program. Taking centre stage at the event and a real marvel for the around 600,000 visitors were the seven cruise ships: the AIDAluna and AIDAstella (both AIDA Cruises), the DEUTSCHLAND (Reederei Peter Deilmann GmbH), MS Delphin (Passat Cruises), MS EUROPA (Hapag-Lloyd Cruises), the MSC Magnifica (MSC Cruises) and the Gann.

A unique atmosphere also engulfed the spectacular Hamburg Cruise Days parade, the absolute highlight of the event. To the awe of the visitors and accompanied by individual firework displays, four of the cruise ships sailed down the Elbe in front of the harbour, which was spectacularly illuminated in blue by artist Michael Batz. The response of Gerd Drossel, managing director of Hamburg Cruise Center e.V., was commensurately positive, "With Hamburg Cruise Days and similar events like cruise ships christening we are bringing cruising home. Such events offer a perfect platform for cruise lines to showcase their products and highlight the cruising theme, subsequently delivering a win-win situation for all those involved as also many tourists come from all across Germany spending their weekend in the Hanseatic city. In this respect Hamburg is the ideal stage for the cruise ships and cruise lovers providing the backdrop for images that go all around the world."

A total of 18,000 cruise passengers were handled during the Cruise Days weekend. As the busiest month in 2014 with 43 arrivals, August has more maritime highlights in store for cruising enthusiasts. On Sunday 10 August, Hamburg will welcome the Legend of the Seas (Royal Caribbean), the first of this season's five turnaround arrivals. All in all, Hamburg is expecting a total of 190 cruise calls for 2014.