Kelvin Hughes, Supplier for World Yacht Race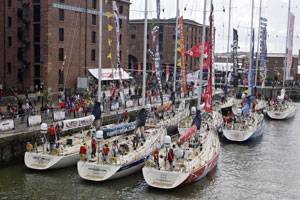 Kelvin Hughes has become the official supplier of electronic and paper charts for the Clipper 09-10 Round the World Yacht Race. During the race, ten identical stripped down ocean racing yachts will battle it out over 35,000 miles.

Kelvin Hughes will be supplying Admiralty electronic and paper charts and their Chart Correction Team is busy updating the Clipper chart outfits, providing ten folios ahead of the race start from the Humber on 13 September.

Through www.bookharbour.com and resellers all over the country, Kelvin Hughes is a distributor of marine publications, charts and instruments, some of which are specifically designed for safe navigation, while others focus more on boat performance and sailing faster.

Terry Smallwood, Manager of Leisure Business at Kelvin Hughes, said, "Sponsoring the race gives Kelvin Hughes the perfect opportunity to support the yachting industry and to promote its specialist products. As well as using our chart data for navigating, the crews will also have a range of our publications, including tide tables, details of shipping lanes, list of radio frequencies around the world, and a number of pilot books for specific information on sailing between the ports of call."

Representatives from Kelvin Hughes will meet those competing in Clipper 09-10 at the crew allocation event on 30 May where they will have the opportunity to browse through some suggested reading materials. These are aimed at giving aspiring race crews an insight into what makes a racing yacht perform well.