Laborde Supplies Yanmars to Power Boats for Export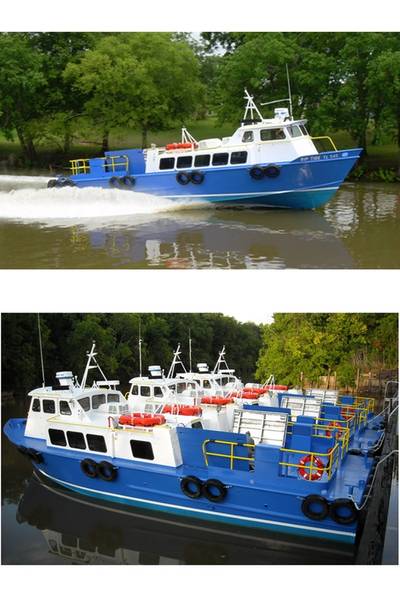 Laborde now has the ability to supply builders on the US Gulf Coast with the complete line of Yanmar 360-1,822 hp commercial engines for export. Laborde recently supplied six Yanmar 6CX-GTYE engines to Neuville Boat Works for crewboats headed for Trinidad.

Inland and Offshore Contractors Ltd., a diversified transportation company serving the petroleum industry, will take delivery of three 47' boats to carry crew and cargo to offshore installations. The fully mechanical Yanmars were chosen for their reliability and durability and because they can be easily serviced in the West Indies. The Yanmars are rated 400 hp at 2,700 rpm and will likely pick up a knot in Trinidad's heavy saltwater.

Neuville Boat Works, founded in 1969, is a leader in the custom aluminum boat building industry. Located in New Iberia, Louisiana, the family-owned company specializes in crewboats, workboats and pilot boats. "Laborde was great to work with," says Kerry Neuville. "They were efficient and knowledgeable and we'll definitely work with them again."

Headquartered in Covington, Louisiana, Laborde Products packages and distributes its own line of diesel-powered equipment under the trade name of Diesel America, in addition to serving as a distributor of Yanmar, Mitsubishi, Hatz, FPT and Scania diesel and gas engines.