Supplying Brazil's Booming OSV Market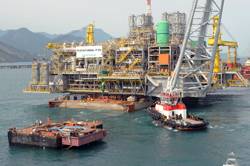 Local equipment suppliers reap dividends, but there's room for foreign businesses – if they know how to play.
After huge oil finds in recent years, Brazil's need for offshore vessels continues to expand and could double between now and the end of the decade. Brazil's state-run oil company Petrobras wants to extract billions of barrels of oil while also developing its shipbuilding and service industries to create jobs. Meanwhile, Brazil is trying to use locally made vessels and equipment, but foreign companies are benefiting from the nation's oil bonanza too.

"Recent oil discoveries off Brazil´s Atlantic coast--reportedly the largest in the Western Hemisphere in 30 years--have established Brazil as an oil producer of global significance," said Leo Freitas, business development manager at V.Ships Offshore in Rio de Janeiro. "Because of new oil fields, Petrobras' exploration, production, growth and spending plans are highly ambitious, and are supported by the government and international oil companies and operators." Petrobras, based in Rio de Janeiro, is 55-percent government owned.
Growth: Offshore Oil – and now – the offshore support sector
"All areas of Brazil's offshore sector have experienced growth, and we believe the number of offshore support vessels will continue to increase," Freitas said. His company figures that around 290 OSVs and special vessels are operating in offshore Brazil now and predicts that number could reach 440 vessels by 2013, 450 by 2015 and 570 by 2020.

"Deep-water oil discoveries require a number of high-technology and high-capability vessels to work in the sea," Freitas said, and added that V.Group plans to cater to those needs in Brazil.

Raphael Moura, safety division head at Brazil's National Petroleum Agency or ANP, said "we're experiencing an important boost in offshore exploration and production activities in Brazil, which will lead to relevant OSV market growth. Our output from deepwater fields is around 25 percent of global oil production, and these figures will increase significantly because of the pre-salt discoveries. Heavy investments in all offshore-related segments are needed--platforms, drill ships, OSVs, pipelines and shipyards."

In 2006, Petrobras made giant discoveries in the pre-salt layer located between the states of Santa Catarina and Espírito Santo, where volumes of light oil exist. Last July, OSX, a publicly-held Brazilian company, began building the biggest yard in the Americas--the Açu Shipbuilding Unit in the São João da Barra Industrial District in Brazil--with technology from its partner Hyundai Heavy Industries.

While Petrobras needs drilling and support vessels, the government is committed to raising local content in equipment and vessels to boost employment. Singapore-based oil services company Sembcorp Marine Ltd. is building its first shipyard in Brazil as Petrobras awards more contracts to local suppliers. Sembcorp is competing with other companies for billions of dollars of drilling vessels that Petrobras will deploy in the Atlantic this decade.

In late 2006, Louisiana-based Edison Chouest Offshore opened its Estaleiro Navship yard in Navegantes, Brazil, where it has 1,000 employees--the largest workforce of any Chouest-owned yard, company spokesman Lonnie Thibodeaux said. "To date, we've delivered 21 platform supply vessels from that yard," he said. "The current series features 303' clean-design diesel electric PSVs. Two of these have already been delivered to Petrobras, with another to launch at the end of April, another in August, and one more by the end of the year."

Thibodeaux said "all totaled, Navship has on its books seven PSVs to be delivered over the next two years, as well as two 312', 21,000 hp anchor handlers, which begin construction in November."
Caterpillar Builds On Its Brazil Network
John Shock, offshore sales manager for Caterpillar Marine Power Systems, said Brazil's market for locally built OSVs and for new and existing vessels from other countries is growing. "Continually increasing, offshore development by Petrobras and other major oil companies is driving demand for deepwater support vessels," he said. "We've seen demand for the full range of deep water OSVs, including AHTS, PSVs, and Crew/Fast Supply vessels." Shock is based in New Orleans, and Caterpillar Marine Power Systems is located in Germany.

"As a leader in engines for the global offshore marine market and a leading manufacturer in Brazil, Caterpillar has been established in Brazil for decades," Shock said. "With a strong, established Cat Dealer Network, a major parts distribution facility in Piracicaba, and a long-established manufacturing capacity, Caterpillar is positioned to respond to demand for OSVs and to support vessel operations in Brazil.

He added "in December 2011, we shipped our first, locally-assembled 3500 Series Gen Sets with high Brazilian content to support the Brazilian government's goals for local manufacturing of OSVs."

Jaime Tetrault, Hamburg-based global product support director at Caterpillar Marine Power Systems, said "we estimate that there are nearly 200 Caterpillar and MaK powered vessels in Brazil participating in the offshore market. In terms of units, this represents over 600 individual engines all requiring service, parts and on occasion detailed, operational analysis."

What's behind Caterpillar's success in Brazil? "We ensure that our dealers have the trained marine technicians needed to meet market needs," Tetrault said. "This segment has a low tolerance for downtime, and having trained technicians available when the client needs them is important."

Tetrault continued "we work with our dealers to ensure they have the right tools available for each of the engine families and models in territory. Our experience tells us not to rely on the tooling on-board vessels as it is often infrequently used. We want to show up on the job site with the right tools needed to accomplish the job."

He said "Caterpillar has the largest inventory of engine parts in all of Brazil. We're constantly monitoring demand, adjusting inventory, and often pre-positioning parts in anticipation of demand. We have the ability to supply parts to meet vessel demand in less than 48 hours maximum, without the need to airfreight or import emergency parts."

Tetrault said "we're seriously committed to growth in Brazilian infrastructure." Built in 1973, the 214,000 square-meter Piracicaba facility is Caterpillar's second facility in Brazil, employing over 5,800 people. The operation recently expanded to include assembly lines devoted to production of generator sets. Plans are to locally produce additional Cat marine and oil-and-gas products in Brazil, including medium-speed marine offerings.
The first shipment of four Cat 3512 DEP generator sets were delivered in December to Navship, the shipbuilder in Navegantes, Brazil, operated by Edison Chouest Offshore.
Companies Worldwide Involved In Offshore Brazil
Michal Marcinkowski, offshore design and proposal engineer at Damen Shipyards Gorinchem in The Netherlands, said "We've been present in the Brazilian market for 18 years now. We've since delivered almost 80 ships of different kinds--among them buoy handlers, azimuth stern drive tugs and diesel-electric PSVs. All of them are a result of cooperation with Wilsons Sons, our local partners."

"As Brazil's OSV demand grows, our main focus of course is on the Petrobras tenders," Marcinkowski said. "We keep on increasing our participation in them. Petrobras has initial needs for 146 OSVs to be delivered by 2014. And we also strive to win anchor handlers."

In early April, Incat Crowther, with offices in Australia and the U.S., said it was awarded a contract to design twelve monohull, fast supply vessels to Petrobras. The ships will carry a cargo fuel load of 90,000 liters, in addition to their own fuel, along with 90,000 liters of fresh water.

Maersk Supply Service, headquartered in Denmark, has 11 vessels operating for Petrobras and five vessels for international oil companies in offshore Brazil. Petrobras is Maersk Supply Service's biggest customer. "We have been working with Petrobras since 1977 in ever-increasing water depths, requiring high safety, environmental, specialized operational performance and the most advanced and powerful vessels," said Carsten Plougmann Andersen, CEO of Maersk Supply Service. Maersk Supply Service has won three, new major contracts to provide anchor-handling, tug supply vessels to Petrobras--all for four years starting this December.

At Des Allemands, La.-based marine transportation company Otto Candies, chief executive Paul Candies said "we're supplying the rapidly expanding Brazilian market. We have tugs, PSVs and diving support vessels in Brazil."
In Gulfport, Miss., Coastal Marine Equipment delivered deck equipment recently for two, oil-spill response vessels, being built at Brazil's Estaleiro Ilha S.A. Shipyard. Those boats will be outfitted with anchor windlasses, capstans and tuggers made at the company's Gulfport facility. Coastal Marine has partnered with Macnor Marine and Macnor Services in Rio de Janeiro to provide equipment and services in Brazil.

Brazil Tightened Offshore Regulations In 2007
After a major review of Brazil's offshore drilling regulations, the National Petroleum Agency or ANP tightened rules in 2007 with its "Technical Regulation of Operational Safety Management System for Maritime Drilling Installations and Oil and Natural Gas Production" or Resolution ANP 43. Pavel Molchanov, senior vice president and energy equity analyst at Raymond James & Associates in Houston, explained, "The impetus for this policy shift was the explosion on a rig called P-36, which took place in 2001. Like the Deepwater Horizon incident, the disaster resulted in 11 fatalities."

Raphael Moura, safety division head at Brazil's National Petroleum Agency or ANP , said "the Brazilian safety regulatory framework was established in 2007 after a study of international regulations and best practices, as well as lessons learned from past accidents. The most significant regulations affecting Brazil's offshore market are Resolution ANP 43/2007, which approved the technical rule for offshore drilling and production operations, and Resolution ANP 44/2009, related to incident communication and monitoring."

Molchanov adds, "because the 2007 policy framework and, more importantly, its actual enforcement was more stringent than the pre-Macondo, regulatory climate in the Gulf of Mexico, Brazil hasn't had to make any major changes in regulations since the Macondo accident. One could even say that recent changes in U.S. regulations have moved the U.S. closer to rules in place in Brazil and in the North Sea."

Wagner Freire, president of Brazilian oil company Starfish and a former exploration and production director at Petrobras, pointed to differences between offshore oil regulations in Brazil and the U.S. Gulf. He said "in theory, the regulations are similar, but in practice the presence of almost a single oil company as operator in Brazil, Petrobras, and less tradition and experience of other organizations involved in Brazil, like ANP, along with the environmental agency and the Brazilian Navy, which is far from the role of the U.S. Coast Guard, affect the control and leadership of investigations of accidents in Brazil. That even leaves room for other institutions, like the Federal Police and the State Public Prosecutor to show up improperly."

As for Chevron's leaks in November and March in Brazil's Frade field, Freire said "there is no comparison between the Macondo and Brazil's Chevron accidents as far as their levels and environmental damage" because the BP spill was much larger. Nonetheless, the Brazilian government has sued Chevron and its contractor Transocean. Chevron owns 52 percent of the Frade field and Brazil's Petrobras owns 30 percent.

Molchanov said "the recent oil spill at the Frade field in offshore Brazil was far smaller than the Macondo oil spill--less than 0.1% of the barrels spilled. Also, there was no impact to fishing or tourism. Despite some relatively harsh rhetoric from Brazilian prosecutors and some politicians, I doubt that the Frade incident will prompt any major changes in how Brazil regulates its industry."

Tyler Priest, global studies professor at the University of Houston and an expert on the history of offshore oil, said foreign companies interested in supplying Brazil's offshore market need to be aware of local content laws.

Petrobras has to purchase 65 percent of its equipment from domestic suppliers to meet local content rules set out by former President Luiz Inacio Lula da Silva. And drilling vessels built in Brazil should be made of mostly local content. Brazilian manufacturers, however, are struggling to deliver equipment as quickly and cheaply as more-established, overseas suppliers. All of Brazil's shipyards are fully booked, with backlogs. Reports are that Petrobras wants to lower the share of locally-produced content it uses in its supplies and services because many Brazilian companies can't meet demand fast enough.

Freire adds, "local content laws affect the offshore industry in several ways, with higher costs, longer delivery schedules and below-standard quality."
The Rush to Production = Opportunity
Brazil's oil industry is flourishing but is also straining to access its finds efficiently. In early April, Petrobras said it had made a new, pre-salt discovery in the Santos Basin in the Dolomita Sul, well north of the Lula pre-salt oil field. "This discovery confirms the potential of the pre-salt region outside the limits of the first discoveries," Petrobras said. That translates into opportunity. Foreign companies have opportunities in offshore Brazil now and will have more if local content laws are eased.

(taken from MarineNews May print edition)
Susan Buchanan is a New Orleans-based business writer, specializing in energy, maritime matters, agriculture, the environment and construction. She holds a master's degree from Cornell University in agricultural economics and an undergraduate degree from the University of Pennsylvania.