BMT's XSS Wind Farm Support Vessel Makes Splash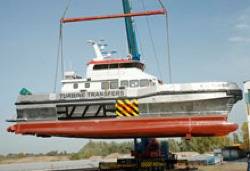 BMT Nigel Gee's first 26m XSS Windfarm Support for Turbine Transfers launched at the Sepers B.V shipyard in Holland.

The XSS (Extreme Semi-SWATH) offers significant improvements in motion levels over conventional platforms and is on target for delivery to Turbine Transfers later this year in time to demonstrate its capabilities in the rougher autumn and winter weather.

This boat is intended to enable improved availability throughout the year providing O&M operations when they are most needed.

In a further development BMT Nigel Gee, a subsidiary of BMT Group, say that work has commenced on the second XSS for Turbine Transfers with a target delivery date of 2013.

Ed Dudson, Technical Director of BMT Nigel Gee, commented: "It's great to see the XSS in the water and the vessel is testament to the hard work of Sepers, BMT Nigel Gee and Turbine Transfers".