AAL Fleet to Expand, Surpass 500,000 DWT in 2015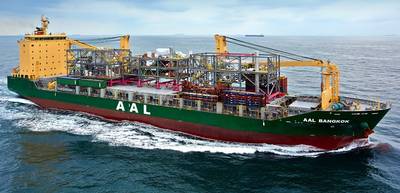 Global ocean transport operator AAL today announced plans to increase the size of its fleet to over 500,000 dwt in 2015.
Comprising owned and chartered vessels, the move will add needed capacity to the multi-purpose sector's youngest and most advanced fleet, in support of growing global demand, the company said.
The company also announced it had doubled revenues in the past two years, increased its market share in core regions and grown from an Austral-Asian carrier to a global operator with the expansion of its fleet, trade routes, services and operational infrastructure. This expansion precipitated the change in the company's name from Austral Asia Line to AAL.
AAL's fleet currently comprises 14 owned multipurpose vessels - ten 31,000 dwt A-Class and four 19,000 dwt S-Class vessels – each with a combined heavy lift capability of 700 tons. It also employs third party tonnage on long term charter, as well as vessels on single voyage charters. The fleet services AAL's two complementary divisions - 'Liner Services' and 'Tramp & Projects' – the former offering regularity and schedule integrity and the later tailor-made flexibility.
"This growth has been largely achieved by managing our operational costs, maximizing efficiencies within our fleet and expanding into new markets," said Kyriacos Panayides, Managing Director, AAL.
Established in the Netherlands in 1995 and headquartered in Singapore since 2008, AAL is celebrating its 20th anniversary in 2015.