UK's New Naval Survey Ship Passes Sea Trials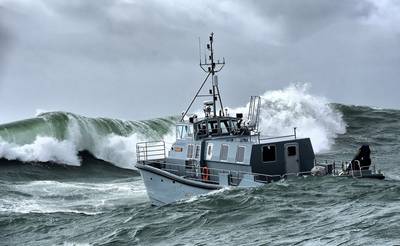 The U.K. Royal Navy's new hydrographic survey vessel encountered a bout of rough weather during sea trials in the Irish Sea.

Launched less than a month ago, HMS Magpie is the newest addition to the Navy's hydrographic squadron, replacing veteran survey launch Gleaner decommissioned earlier this year after 35 years' under the White Ensign.

The new 18-meter catamaran is being delivered by Atlas Elektronik UK through a subcontract with Cork shipbuilder Safehaven, based on the firm's Wildcat 60 craft.

The vessel is due to be formally handed over to the Royal Navy next month and be ceremonially commissioned into the fleet early in the summer. She will then join the rest of the hydrographic squadron at HM Naval Base Devonport.

"Magpie will help lead the way in modernizing the Royal Navy's survey and underwater surveillance capabilities," said Lieutenant Commander William Alexander, Magpie's new commanding officer and Gleaner's last. "Her primary role will be in maintaining the integrity of coastal waters, ensuring safety of navigation and resilience of key national infrastructure in U.K. ports. And with an enduring presence around the U.K., she will also contribute to national security at sea."

Magpie – named after the Duke of Edinburgh's only command – is larger than Gleaner, can stay at sea much longer (she has two messes/accommodation compartments for up to 12 crew and a galley which can meet the sailors' needs for up to seven days), and is much more resilient in rough seas.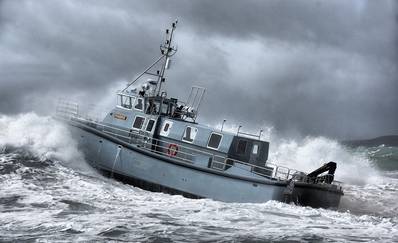 HMS Magpie during sea trials in the Irish Sea (Photo: Royal Navy)
The Royal Navy said it expects Magpie to be able to maintain 20 knots in a Sea State Four with waves up to 2.5 meters high.

The new survey is due to make the journey from Cork to Portland in Dorset for military/hydrographic equipment fitting out, equipment which is a marked improvement on what was installed on Gleaner, such as the latest high-resolution shallow-water multi-beam echo sounder and side-scan sonar. Magpie will also be able to launch remote-controlled underwater devices to search wide areas of seabed for obstructions or mines.

Otherwise, Magpie's role is largely the same as Gleaners ensuring the approaches to the U.K.'s ports are safe by scanning the seabed, updating charts and generally acting as another pair of eyes and ears into events in home waters, the Royal Navy said.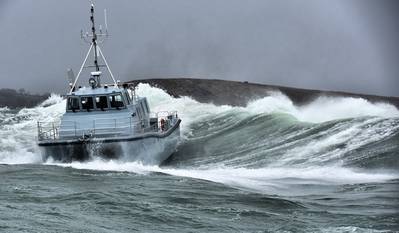 (Photo: Royal Navy)