Engine Piston Surveys Without Opening Up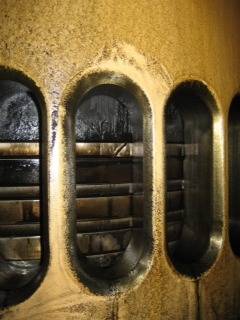 German shipping company to implement GL condition monitoring survey arrangement for engine piston performance.
German shipping company NSC Schifffahrtsgesellschaft mbH & Cie. KG (NSC) has decided to implement a Condition Monitoring (CM) survey arrangement on the main diesel engine pistons of 49 Germanischer Lloyd (GL)-classed vessels of its fleet.
GL's CM survey arrangement helps ship managers to improve the efficiency of the ship operation in their fleets by supporting cost efficient condition-based maintenance schemes. Condition monitoring trend data, for example from regular inspections through the scavenge ports of large 2-stroke diesel engines, documented in electronic forms provided by the engine designer, are presented annually to experts at GL head office.

After evaluation and assessment of the data, according to the engine designer's instructions and class rules, a statement is sent back to the superintendent and forwarded to the vessel. This statement can then be recognised during the next annual class survey performed by GL surveyors. If there are no indications of areas of concern with the machinery, the surveyor is encouraged to credit the respective components - without resorting to a further open-up inspection.

"The prevention of unnecessary open-up inspections and surveys is one of the significant benefits of the CM survey arrangement," says Dr Jörg Rebel, GL condition monitoring expert. "Open-up inspections and surveys, are costly and time-consuming, especially in the case of piston overhauls for large diesel engines. The dismantling and re-assembling of the engines always holds the risk of damaging a system which is running well."

GL offers the CM survey arrangement for crank-train bearings and pistons of 2-stroke diesel engines, as well as for rotating auxiliary machinery, such as centrifugal pumps, electric motors, fans and purifiers.