BAE Systems Mast Modules Ready for LHD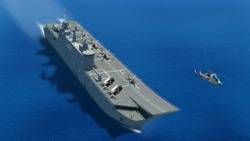 Mast modules for 27,000 tonne Australian Landing Helicopter Dock (LHD) at BAE, Henderson, completed and ready for Melbourne outfitting
Mast modules for the 27,000 tonne Landing Helicopter Dock (LHD), fabricated and constructed at BAE Systems Henderson, facility are now completed and ready to be transported to Melbourne.
The three mast modules weighing between 19 and 36 tonnes will form part of the superstructure of the LHDs and will house equipment including communication and combat systems, navigation and air traffic control radars and infrared search and track sensors.


The mast modules will be loaded onto the heavy lift ship Henan Scan berthed at BAE Systems wharf at their Henderson load-out facility. The vessel will leave the load-out facility shortly for Williamstown weather dependent.

BAE Systems is the prime contractor for the LHD Project. The first hull which is being constructed in Ferrol Spain is expected to arrive in Williamstown in the fourth quarter 2012.
Director of Maritime for BAE Systems, Bill Saltzer, said: "It was decided to construct the mast modules at the Henderson facility because of its proven track record for fabricating vessel masts for the Royal Australian Navy and by keeping the superstructure build on BAE Systems sites we can ensure consistent quality in the LHD project."