Teekay Tankers Order Four Tankships from Korean Yard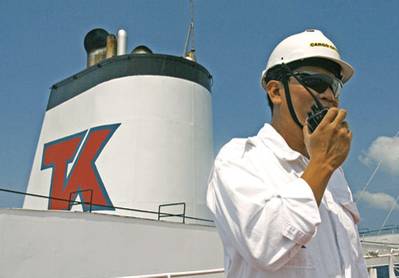 Teekay Tankers orders 4 LR2 product tankships from STX Offshore & Shipbuilding with options for 12 more.
The agreement is for STX of South Korea to construct four fuel-efficient 113,000 dwt Long Range 2 (LR2) product tanker newbuildings for a fully built-up cost of approximately $47-million each.
The agreement also includes fixed-price options for up to 12 additional LR2 newbuildings that can be declared over the next 18 months. Upon delivery, it is expected that the vessels will operate in Teekay Corporation's Taurus Tankers LR2 Pool, which is one of the world's largest LR2 pools with approximately 20 LR2 product tankers.

The agreement with STX includes a favorable installment payment schedule, with the majority of the purchase price due upon delivery. The Company intends to finance the installment payments with its existing liquidity, which was approximately $327 million as of December 31, 2012. The Company expects to secure long-term debt financing for the four vessels prior to their scheduled deliveries in late-2015 and early-2016.

"The shift in global refining capacity east of the Suez Canal, development of new long-haul product tanker trading patterns, including the potential for increased U.S. exports, and a relatively modest orderbook, make the LR2 segment a particularly attractive growth area for Teekay Tankers," commented Bruce Chan, Teekay Tankers' Chief Executive Officer. "With their fuel-efficient design, which is estimated to result in 20 to 30 percent fuel savings compared to current vessels in the existing LR2 fleet, we believe these newbuildings will be very attractive to our customers. Furthermore, we believe the vessel deliveries are well-timed to benefit from expected improvements in refined product and global crude oil tanker market fundamentals."

Teekay Tankers currently owns a fleet of 27 double-hull vessels, including 11 Aframax tankers, 10 Suezmax tankers, 3 Long Range 2 product tankers, three Medium-Range product tankers, and has time-chartered in two Aframax tankers.