Nett Technologies Complete JAXPORT Emissions Project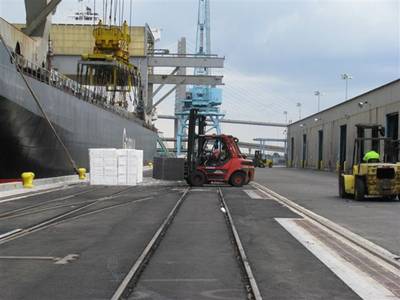 The EPA-funded JAXPORT diesel emissions reduction project completed by Nett Technologies involved the design, manufacture and installation of 19 Diesel Oxidation Catalysts (DOC) onto several large container cranes, generator, forklift and trucks owned and operated by the Jacksonville Port Authority (JAXPORT).
JAXPORT is located in Jacksonville, Florida and is an independent seaport authority created by the Florida State Legislature to operate as a landlord, managing its equipment, upkeep, and the continued expansion and improvement of its port facilities.

The JAXPORT emissions retrofit project was made possible by a $570,000 grant awarded by the Florida Department of Environmental Protection and funded by the United States Environmental Protection Agency (EPA). This grant was established to assist JAXPORT's efforts to voluntary reduce diesel emissions at their Talleyrand and Blount Island Marine terminals. The installation of these retrofit catalysts will reduce overall JAXPORT emissions by 10 tons per year.

"The JAXPORT project presented its own share of unique installation challenges. If it weren't enough that the project required completion before the Atlantic hurricane season; there were also a wide variety of equipment types, engine sizes, positions and available installation space making this project truly unique. Each of the individually custom designed DOC systems needed to be installed with the utmost of skill and precision. Thankfully, Beard Equipment with the assistance of JAXPORT were instrumental in overcoming this challenging installation." explains Mr. Stephen Ashton, Lead Design Engineer at Nett Technologies.

As an innovator of port emission control systems, Nett Technologies Inc., located in the Greater Toronto area, say they have almost 20 years experience in the design, development and manufacturing of custom retrofit solutions that control Particulate Matter (PM), Nitrogen Oxides (NOx), Hydrocarbons (HC), and Carbon Monoxide (CO) emissions from all compression and spark-ignited engines.