Cruise Ship Technology: Azipod Efficiency Gains 2%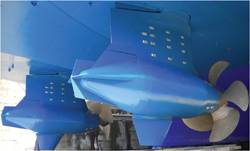 One of the original creators of podded propulsion solutions -- a technology routinely featured on the world's largest cruise ships -- for the maritime market announced another breakthrough which improves efficiency further. ABB reports that recent modifications to its Azipod propulsion unit frame design have seen hydrodynamic efficiency improved by more than two percent. The modifications include a newly optimized Azipod fin shape and a new pod cap structure, called Xtail. The revised fin structure receives water flow from the propeller at a new, less acute angle, and its new curved design redirects the flow more efficiently. The unit's new X-tail, installed for the pod cap structure, straightens water flow on ejection from the Azipod propulsor, minimizing water swirling. Royal Caribbean International's Radiance of the Seas was the first cruise ships to benefit from the new fin shape and X-tail. The modifications to Azipod were completed during its drydock visit in May 2011. Her sailings from May to September witnessed the benefits when compared to a sister vessel and her previous operational portfolio: more than 2 percent in hydrodynamic efficiency improvement was achieved.
Based on the positive result from the test, ABB will now include its new features in new Azipod XO units and provide refitted services to existing vessels equipped with older Azipod VO and XO units.
At the beginning of 2011 ABB together with Eniram introduced Azipod Dynamic Optimizer (ADO), a software tool which optimizes the Azipod toe angle. The tool has helped to improve unit efficiency and initial results from the trial installation on Holland America Line's Noordam indicate that 1.5 percent savings may be achievable on this vessel.
When the Azipod propulsion system was first introduced to the cruise market in 1990s, around an eight percent rise in efficiency was recorded compared to existing ships, in terms of shaft line efficiency, according to the manufacturer. After that, step by step improvements were made to the Azipod shape, resulting in about another seven percent efficiency improvement. Two years ago, when 'next generation' Azipod - Azipod XO units were launched, another two percent improvement was achieved. Thus combining this to the recent improvements, Azipod hydrodynamic efficiency has totally been improved by more than 12 percent compared to the first cruise vessel application.
To date, over 100 vessels have been equipped with Azipod propulsion units and more than 240 Azipod units have been delivered or are on order.