Man's High Speed Engines with Latest Technology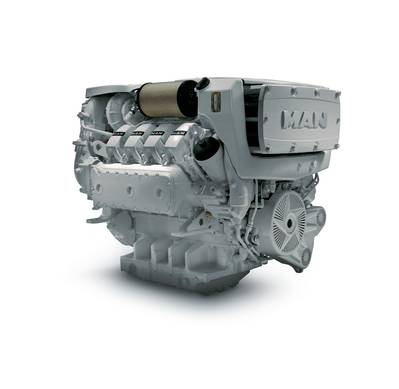 MAN is presenting the D2868 LE421 and LE422, a fully classifiable marine diesel engine for medium and heavy duty applications.
In order to fulfill the emission standards, the high speed engine from Nuremberg, uses the latest Common Rail technology. The D2868 is MAN's first Common Rail 8 cylinder engine for medium and heavy duty applications. Due to the use of the latest Common Rail technology, this high speed engine fulfills the most common international emission standards without a specific exhaust gas treatment. Additionally this efficient engine offers improved fuel consumption, as well as lower noise emissions. The option of classification increases the possible field of applications for ship owners and captains. For light duty purposes, the D2868 LE 423 is already successfully implemented in the field.

For heavy duty applications, the efficient D2868 LE421 marine diesel engine offers 441 kW (600 hp) at a rated speed of 1800 rpm (Up to 100% of time at full load and unlimited operation hours per year). MAN expands its high speed product range with the new generation D2868 LE421 and thereby offers attractive solutions, especially for applications in the lower horse power range. The efficient 8 cylinder engine guarantees a reliable operation for tug-, push- and workboats at low maintenance costs and low fuel consumption. The MAN D2868 LE421 will be available first quarter of 2013.

For medium duty applications (up to 3000 operation hours per year and up to 50% of time at full load), the D2868 LE422 offers an expanded performance, compared to its previous model. The classifiable D2868 LE422 offers 588 kW (800 hp) at a nominal rating of 2100 rpm. It replaces the non-classifiable D2848 LE422 and provides 10% more performance at the same nominal rating. The efficient 8 cylinder is the preferred choice for passenger ships, fishing and patrol boats. It is characterized by its low fuel consumption and high reliability. The D 2868 LE422 is available with and without classification first quarter of 2013.