Severn Trent Receives Technology Leadership Award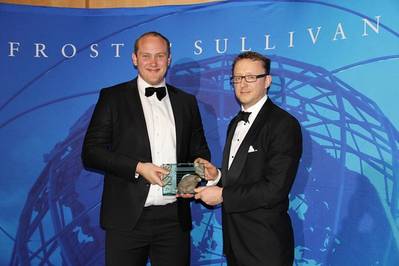 Severn Trent Services receives the 2013 Global Water & Wastewater Disinfection Systems Technology Leadership Award from Frost & Sullivan.
The award, which recognizes the company as a pioneer of stable, safe and sustainable electrochlorination products, was presented at the 2013 European Growth Innovation & Leadership Awards Banquet in London, United Kingdom .

"Severn Trent Services has established itself as the undisputed technology leader in the field of electrochlorination disinfection through its joint venture, Severn Trent De Nora," said Frost & Sullivan research analyst, Vandhana Ravi. "Electrochlorination is perceived as having an edge over traditional disinfection technologies in terms of offering greater stability, reliability and safety – all while reducing the consumer's carbon footprint."
www.severntrentservices.com

"Frost & Sullivan's Technology Leadership Award validates the growing use of seawater and brine electrochlorination technology in multiple applications around the world," said Ian Dearnley, Severn Trent Services' vice president of product management and global procurement. "Severn Trent Services remains committed to investing in product development to ensure our offerings remain of high quality and relevant to the needs of our customers and the changing demands of the global industries."

Severn Trent's products include the ClorTec® on-site sodium hypochlorite generators from brine water, BALPURE® ballast water treatment systems, OMNIPURE® marine sewage treatment systems and the SANILEC® SEACLOR® and CECHLO® systems for biofouling control.