Onboard DC Grid Wins ABB an OTC New Technology Award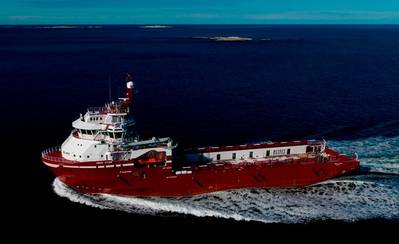 ABB's onboard DC grid was one of 15 technologies selected for an award at the current OTC expo in Houston Texas.
The grid concept was selected for an award by a panel of representatives from the OTC Board and program committee. To qualify, technologies had to fulfill five criteria: they had to be new (less than two years old), innovative (original, groundbreaking and capable of revolutionizing the offshore exploration and production industry), proven to work, of broad interest and appeal to the industry, and have significant impact (offer efficiency and environmental benefits beyond existing technologies).

ABB unveiled its onboard DC grid concept in mid-2011, attracting a high level of interest from ship owners operating a wide range of vessels, including offshore, tugs, jack ups, ferries and yachts. It was followed by a pilot-project contract six months later.

With its onboard DC grid, ABB has created one of the most flexible marine power and propulsion systems to date. It offers up to 20 percent fuel efficiency, big potential for space saving and improved dynamic response. The onboard DC grid merges the various DC links throughout the vessel and distributes power through a single 1000V DC circuit, eliminating the need for main AC switchboards, distributed rectifiers and converter transformers. The system combines the best of both AC and DC components and can be used for any electrical marine application up to 20MW.

The first vessel featuring ABB's onboard DC grid was delivered to Norwegian owner Myklebusthaug Offshore by Kleven Yard a month ago. The vessel "Dina Star" is 93 meters long with a deadweight tonnage (DWT) of approximately 5,000 tons and will serve as a multipurpose oil field supply and construction vessel in the North Sea. ABB supplied the onboard DC grid system, including all power, propulsion, automation and advisory systems.

Delivery has prompted keen interest in the vessel's energy savings and other system benefits; ABB is expecting to verify the reduced emissions and fuel consumptions when the actual operational data of Dina Star is collected in the following months, but based on feedback obtained during sea trials, its performance has exceeded expectations, with all of the parties involved reporting positive results and expressing confidence in the future of onboard DC grid.