TEN Fixes Suezmax Tanker with a EU Firm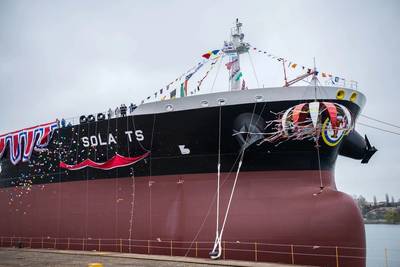 Greek tanker owner Tsakos Energy Navigation (TEN) announced an up to 36-month charter to a major European oil concern, for a suezmax tanker.

The crude tanker is currently operating in the spot market on a minimum rate with profit sharing provisions to capture any freight upticks during the life of the contract.

The gross revenues expected over the maximum period of this employment are estimated to be in the region of $23.0 million.

"Whilst strategically positioning the fleet for profitable operations, safety at sea remains TEN's top priority. We would like to congratulate the Captain and crew of our good vessel Stavanger TS for their actions to rescue a Canadian skipper in the North Atlantic in full cooperation with the US Coast guard," George Saroglou, COO of TEN said.

"Such rescue missions, through our voluntary involvement in the US Coast Guard sponsored Automated Mutual Assistance Vessel Rescue System (AMVER) underlines TEN's commitment to human safety at sea," Saroglou added.

TEN's diversified energy fleet currently consists of 68 double-hull vessels, including two aframax and two suezmax tankers under construction, constituting a mix of crude tankers, product tankers and LNG carriers, totaling 7.5 million dwt.

Of the proforma fleet today, 48 vessels trade in crude, 15 in products, three are shuttle tankers and two are LNG carriers.