APM Terminals Tacoma Ends Lease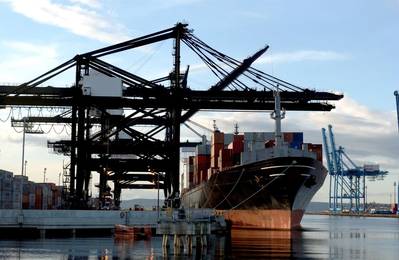 APM Terminals Tacoma concluded its operations on September 30, 2017, ahead of the December 31, 2017 lease expiration date, transferring the lease to Seattle-based SSA Marine who formed a new joint venture with Matson Lines, called SSAT, starting operations October 2, 2017.
APM Terminals Tacoma was used primarily by the Matson Alaska Service, with twice-weekly sailings between Tacoma, Anchorage and Kodiak, Alaska, and a weekly service between Tacoma and Dutch Harbor, Alaska, handling a combined 190,000 TEUs in 2016.
APM Terminals' U.S. portfolio includes operations at APM Terminals Pier 400 Los Angeles, the largest proprietary terminal in
North America
; APM Terminals Port Elizabeth, at the Port of
New York
&
New Jersey
; APM Terminals Mobile, Alabama; and a 49 percent share in the South Florida Container Terminal, at the Port of Miami.