Offshore Platform 'Olympus' Hull Texas-bound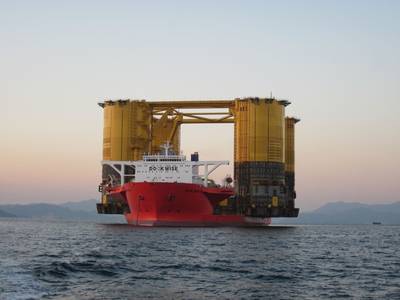 Shell Offshore's main body of the 'Olympus' Tension Leg Platform (TLP) leaves South Korea aboard Dockwise ship.

The approximately 32,500 metric ton main body of the Olympus TLP begins its two month journey to the U.S. Gulf Coast on Dockwise's Blue Marlin semi-submersible heavy lift ship.

The hull is expected to reach Ingleside, Texas in early 2013 where installation of the topsides will take place before the TLP departs for its final location on the Mars Field in the Gulf of Mexico.

The Mars Field, owned by Shell (71.5%) and BP (28.5%), and operated by Shell, continues to contribute to the Gulf of Mexico's position as a critical component of the US energy supply. Discovered in 1989 and brought onto production in 1996, the Mars Field is considered one of the largest resource basins in the Gulf of Mexico. The site for the Olympus TLP, known as the Mars B development, is located about 130-miles south of New Orleans in the Mississippi Canyon and lies in approximately 3000 feet of water.

The Olympus TLP, Shell's sixth and largest tension leg platform, will also provide process infrastructure for two of Shell's deep water discoveries, West Boreas and South Deimos. The Mars B development is the first project of its kind to expand an existing deep water Gulf of Mexico oil field. A combination of factors produced this growth, including improved understanding of the reservoir and recovery potential due to advanced seismic and modeling technologies, and new discoveries in the Mars Field.