Three Dead After Shipyard Shooting in Louisiana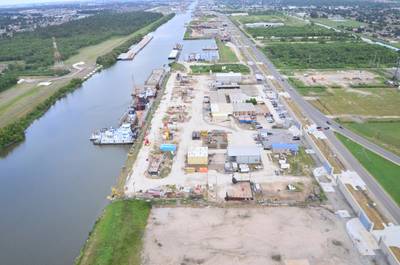 Three people are dead following a shooting incident at a shipyard in Harvey, La., near New Orleans.
The Jefferson Parish Sheriff's Office said it is investigating a double homicide at the FMT Shipyard & Repair facility on the West bank of the Mississippi River, and that a suspect was later killed after a shootout with deputies.
Around 1 p.m., deputies were dispatched to a report of a shooting at the shipyard. Upon arrival, officials located two unresponsive adult males—both contract employees at the shipyard—who had suffered gunshot wounds. The victims were pronounced dead on the scene.
Detectives then began to search for the suspect, identified by witnesses as a former shipyard employee who worked on the same crew as the victims but had recently been let go.
After receiving word that the suspect was at a nearby apartment complex, uniformed and plainclothes deputies established surveillance at the location and encountered the suspect as he was walking to a dumpster around 2:45 p.m.
The suspect fled and fired multiple shots at approaching deputies, who returned fire, striking the suspect several times. The suspect was pronounced dead on the scene, officials said.
FMT Shipyard & Repair is a full service repair yard located on the Harvey Canal, between the Mississippi River and the Intracoastal Waterway.