RV Tiburon's New ROV Named "Otis"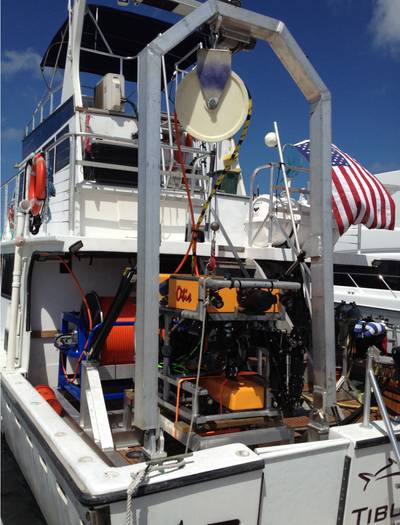 R/V Tiburon added a custom built Spectre ROV capable of working depths of up to 600m.
It is named "Otis", after Otis Barton the inventor of the Bathysphere and holder of world record 4500 ft. tethered dive in 1949.
"We see this as a time to concentrate our skills to the important mission of collecting important environmental data in the wake of the BP
Gulf oil spill
"
said Tim Taylor
CEO of RV Tiburon, Inc.
RV Tiburon is dedicated to the continued support of research and exploration and brings its special operations approach of more operational time at sea for less costs. The belief that important contributions can be made by independent specialized team is at the core of RV Tiburon's corporate philosophy. Witnessing first-hand the current state of the oceans, RV Tiburon endeavors to apply its set of diverse skills and knowledge to help be a part of the solution. They pride themselves on taking an active roll in participating in the future of a healthy ocean environment as well as exploring and preserving its cultural resources.
The RV Tiburon inventory of equipment and vehicles include 18-ft. RIB tender, 600m HD ROV, latest underwater camera systems and CCR's for commercial, film and documentary support.
Email: info@rvtiburon.com