TITAN Completes New Carissa Wreck Removal in Coos Bay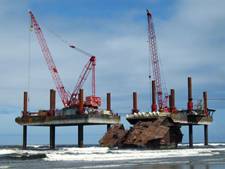 The last visible piece of the stern section of the New Carissa was removed on September 23. After four months of work and several days of diving to clear the seabed of the final 50 tons of debris, the last load of New Carissa scrap landed at the Empire dock in on September 29. With the removal earlier this week of TITAN's two jackup barges, the Karlissa A and Karlissa B, which were raised 40 feet above the surf zone, the wreck removal was done.
On February 4, 1999 the New Carissa ran aground near . The Oregon Department of State Lands signed a contract with Titan Salvage in the summer of 2007 to remove the remaining stern section. TITAN's plan involved a combination of their two jack-up barges, a purpose built 1,000-foot téléphérique (a type of cable car), six of Titan's 300-ton hydraulic pullers, two large cranes and an experienced salvage team. The jack-up barges allowed the team to work from a stable platform above a very active surf zone. The téléphérique, designed by TITAN and built specifically for this project, was the salvage team's lifeline to the beach.
After cutting and removing several hundred tons of steel above the water, the six TITAN pullers were connected to the remains of the wreck buried 30 feet in the sand. With a combined pull of over 1,500 tons over the bow of the Karlissa A, the pullers were able to retrieve the remains of the wreck from the sand. The wreck was then repeatedly heaved out of the water where salvors could flame cut pieces into manageable size pieces, rig them to the crane and land them on the deck of the jack-up barges.
The heaviest piece removed was the 170-ton main engine block. Several other pieces were in excess of 100-tons. The scrap was ultimately back loaded onto 's 250-6 deck barge for transport ashore where Pacific Recycling of Eugene, Oregon will receive and dispose of it.
Because of the dangerous nature of this project, the crew was extensively trained in safety measures and the use of harnesses, ropes and bracing specifically related to the job.
TITAN, which is a wholly owned subsidiary, is a worldwide salvage company based in The company also has offices in , and along with an equipment depot in .