Tom Cruise Visits Aircraft Carrier USS George H.W. Bush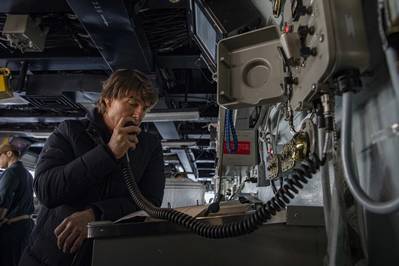 One of Hollywood's biggest stars recently paid a visit to U.S. Navy sailors aboard the Nimitz-class aircraft carrier USS George H.W. Bush (CVN 77).
Top Gun: Maverick producer and star Tom Cruise was joined by writer and producer Christopher McQuarrie, and editor Eddie Hamilton, along with Ted Lasso star Hannah Waddingham, for the stop. The team led a Top Gun: Maverick viewing in the ship's hangar bay and took time to visit with sailors aboard the ship, which has been deployed since departing Naval Station Norfolk in August 2022.
"I know our sailors will never forget that night in the hangar bay, and I am equally as certain that neither will Mr. Cruise," said Rear Adm. Dennis Velez, commander, CSG-10, George H.W. Bush CSG. "The sailors of the George H.W. Bush Carrier Strike Group represent what is best about America. Their commitment and courage is on display every day, and I know Tom and his entire team left with a fuller appreciation of the capabilities and power of U.S. Navy's carrier strike groups -- and the dedication and grit of our sailors that make it all possible."
"While Top Gun will always be an American and Navy classic, Tom, Chris, Eddie, and their team outdid themselves with Top Gun: Maverick!" said Capt. Dave Pollard, the aircraft carrier's commanding officer, himself a Top Gun graduate and instructor. "Every minute they spent with the crew of our mighty warship paid dividends toward our crew's morale from the top-down. It buoys my spirits to know that the leading entertainers and filmmakers of our day not only conceptually know what we do, but they can relate to what our nation's warriors do on a daily basis through their personal experiences aboard USS George H. W. Bush (CVN 77)."
Paramount Pictures' Top Gun: Maverick is the highest-grossing of Cruise's career, earning more than $1 billion at the box office. At the 95th Academy Awards, the film received nominations for Best Picture, Best Adapted Screenplay, Best Film Editing, Best Visual Effects, Best Original Song; and won Best Sound.
"This is my first deployment, and it's difficult sometimes to be gone from home and family for such long time," said Aviation Support Equipment Technician 3rd Class Olivia Morton, the ship's Blue Jacket of the Year who was promoted meritoriously during the visit. "Spending time with my friends at the hangar bay event and getting a photo with all of the guests – especially Tom Cruise – was the highlight of a memorable deployment."
The George H.W. Bush Carrier Strike Group (CSG) is on a scheduled deployment in the U.S. Naval Forces Europe (NAVEUR) area of operations, employed by U.S. Sixth Fleet to defend U.S., allied, and partner interests. The CSG has been working alongside NATO allies and partners to increase interchangeability and increased capacity for the Alliance.
George H.W. Bush is one of the world's largest and most powerful warships, serving as the flagship of CSG-10, George H.W. Bush CSG. CSG-10 is comprised of George H.W. Bush, Carrier Air Wing (CVW) 7, Destroyer Squadron (DESRON) 26, the Information Warfare Commander, and USS Leyte Gulf (CG 55).
The ships of DESRON-26 within CSG-10 are the Arleigh Burke-class guided-missile destroyers USS Nitze (DDG 94), USS Farragut (DDG 99), USS Truxtun (DDG 103), and USS Delbert D. Black (DDG 119).
The squadrons of CVW-7 embarked aboard the George H.W. Bush are the "Sidewinders" of VFA-86, the "Jolly Rogers" of VFA-103, the "Knighthawks" of VFA-136, the "Pukin' Dogs" of VFA-143, the "Bluetails" of Carrier Airborne Early Warning Squadron (VAW) 121, the "Patriots" of Electronic Attack Squadron (VAQ) 140, the "Nightdippers" of HSC-5, and the "Grandmasters" of Helicopter Maritime Strike Squadron (HSM) 46.